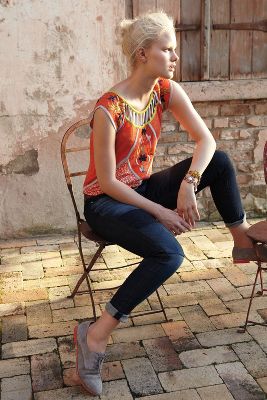 (Shop the July 2012 catalogue here.)
Note: Effortless Anthropologie is undergoing a site design upgrade — you may notice various interruptions of service, links not working correctly or comments disappearing. The maintenance should wrap up tonight, thanks for your patience! Get full details here and here.
Ric Rac is back! Ric Rac is back!!! One of my favorite Anthropologie brands had dwindled from regular releases to sporadic releases to very few releases to sadly missing from Anthro stores altogether. I pined for the tunic lengths and fanciful adornments the brand was known for. Then all of a sudden like a dam bursting Anthropologie is once again plentiful with Ric Rac releases. I couldn't be happier!
Over the past few weeks I've tried on enough from the brand to give it a dedicated reviews post. Grab some ruffles, trim and patchwork and join me as we cruise the Ric Rac offerings.
STYLE # 24708471; orange (089)
★★★★☆
When I saw the Carrot Flower Cutout Top ($68) online, I assumed it was a rough hewn silk. In real life I was surprised to discover the top is a soft viscose, very cotton-y. The orange color is a nice midtone that's not too red, not too clownlike and a perfect Pantone for this summer's trends. An open caged neckline wisely terminates before the sleeves so no bra straps are visible. The bottom of the top is two motif panels joined cathedral style, with a slight triangle leaking around to the back. A central embroidery of floral shapes is echoed on the sleeves. Love!
I am usually able to size down in Ric Rac. I tried on my usual medium in this top and it was loose down at the bottom, so I'd size down to a small to buy. Orange is a tricky color for me as I have so much red undertone in my skin. I think this top works, though I'd surround it with blue family colors to keep myself from looking like an under-ripe tomato. I feel like this top could pull either casual duty or slightly dressed-up duty. Of all the tops in this reviews set the Carrot Flower is my favorite. Nicely done Anthro — wishlisted!!
Note: this top has been sold out online for a week or so but keeps popping back, in an XS this morning for example. So keep checking that product page and the weekly popbacks thread!


Twirled Tiers Tee (now $30) by Ric Rac, TTS
STYLE # 24678138; blue (040), dark grey (005), white (010) or pink (066)
★★★☆☆
I tried on my usual size medium. I expected to feel great in this top but I did not. I felt bumpy. And lumpy. And kinda dumpy. I'm not sure what went wrong here, but I feel it's me and not the top that's kindling disappointment. The top feels light and easy and billows slightly from the hem as you move. The shoulders are that sucky cap-sleeve length that is perfect for showing off my upper arm pudge. So like a date that ends with no goodnight kiss, instead of coming to my apartment this top went back to the rack instead.

Petal-Packed Tank ($68) by Ric Rac, size down
STYLE # 24732752; black motif (009)
★★★☆☆
I sized down to a small in this top. The armholes are ridiculously long. They almost extended below my bra strap! The fit in the small was somewhat close to my body but with so many pleats and so much extra material in back that I felt swarmed.
I kind of love how long this top is. I envision it over leggings — purple ones maybe — with knee-high riding boots and and a thick belt. Blogger by day, bat by night? A pass at full price. Wishlisted for sale.

Beaded Abraxas Top ($58) by Ric Rac, TTS
STYLE # 24712333; black (001)
★★★★☆
I got a little overconfident and grabbed a small to try here. But I should have stuck with my usual size medium. This top is very fitted which creates a sexy silhouette but necessitates room to breathe. The front of the top does come down pretty low. This wouldn't be a day top for me — it would be strictly evenings. But even with the lack of day-to-night versatility this top is a winner in my book. Wishlisted!

Caravan Patchwork Top ($88) by Ric Rac, size down
STYLE # 24706137; ivory (011)
★★★★☆
Your sizing will depend on how you want this top to fit. For me, I like the more streamlined look (it will be great as a layering piece) so I sized down to a small. But if you want a larger, freerer fit with the drop waist down than size up. I like this top a lot but there is no way I'm buying it at full price. Wishlisted for reconsideration at sale time.

Twirled Crepe Tank ($98) by Ric Rac, size down
STYLE # 24538118; ivory (011)
★★☆☆☆

Eliza Racerback (now $40) by Ric Rac, TTS
STYLE # 24732489; blue motif (049)
★★★★☆
I initially tried a size small, and I was in such a rush when I took these photos that the top isn't laying well at all. But even in my haste I could tell this top is a delight. I love the multiple panels of the bottom third, and I think this top would be super cute over a pencil skirt. Once I got it home and saw these shots…
…I took one more so you could see how the shirt is supposed to lay. This is me in my usual size medium. Love it, bought it on sale!!