Last month, Anthropologie snuck an entirely new category onto its website: activewear. Typical to Anthropologie there are lots of items adorned with ruffles and flowers. But upon a closer look there's something surprising: this line kinda rocks!
When this line first came out I was dubious at best so I decided to wait before posting about it. With a little time to digest it I've come around to the idea. Pretty workout gear. That's what this is. Does workout gear need to be pretty? Hell no. Do I like it with a little pretty? Yes, yes I do.
Above are some of my favorite selections from the currently available assortment. In my yoga classes I've noticed that the plain black or calf-accented black crops have gone out of style in favor of, well, crazy patterned leggings like the Galaxy Burst Leggings ($65) or the Diamond Burst Crop Leggings ($56). Lord help me, I think I want to go there too! Although the Pure + Good Skirted Compression Crop Leggings ($88) are also calling to me; I like the idea of my butt being covered for most of my workout and stretching. The Pure + Good Striped Ruffle Jacket ($98) has just the right mix of ruffle and practical; I feel like so much workout wear is unfeminine and yes that is something that's important to me.
Some of the pieces, i.e. the Pure + Good Lace Racerback Swing Tank ($78), strike me as pretty but completely impractical. But most of the pieces look functional if not entirely supportive for yoga or a medium-exertion workout. I'm impressed. I don't think I'd trust any of these pieces for my long run days or my Warrior Fitness Bootcamp (yes that's a real thing and it is awesome). On my group workouts or yoga days though I think any of these pieces would be great!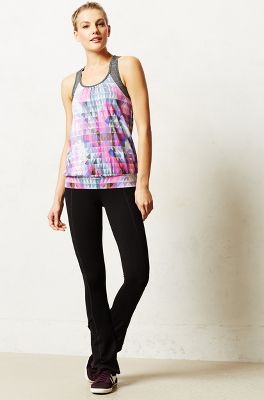 A friend of mine commented that most of this stuff looks like "things people wear to make it look like they've just worked out even though they haven't just worked out." I can see it. Sometimes to psych myself up for a big workout I'll wear active gear on my errands the day before.
Some of the items on the page blow my mind a bit. A glass water bottle? Really?!? I know Anthropologie says it's virtually unbreakable but I have my doubts. This bra makes me itch just looking at it. Prices on some items seem high but others, like the Diamond Burst Crop Leggings ($56) I mentioned above, seem eminently fair.
Still, I have a few pieces in my shopping cart. The next free shipping tease should be enough to get me to pull the trigger. I'm delighted to see reviews coming through on some of the items already. It's very helpful, especially on the pants where I'm still not sure whether I'm a medium or a large these days.
If you need me I'll be deciding which color of an $88 yoga bag I need. Any votes from the community? What do you think of this new Anthropologie Activewear line? Will you buy any of the items?