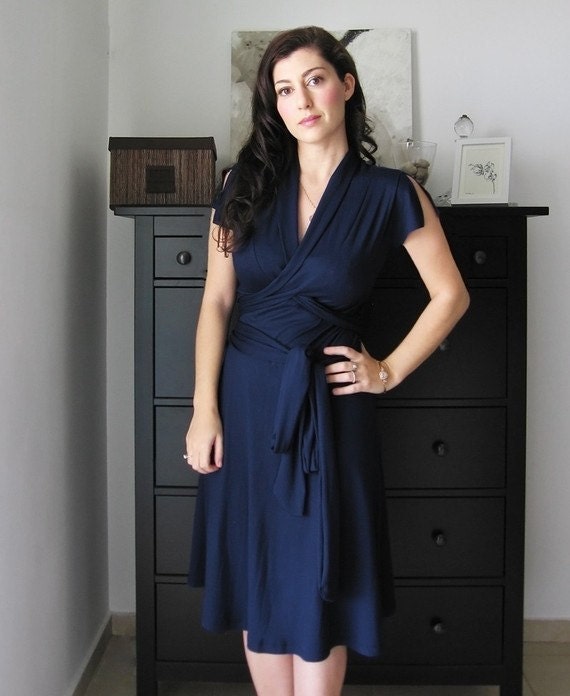 EA sponsor Lirola is giving away a fantastic prize to one lucky community: a beautiful custom-made dress!
Lirola makes beautiful handmade jersey dresses, blouses and more to order — including maternity! All you need to do is choose from the sizing specifications and a few weeks later your item is delivered to your doorstep. Looking around the shop I can't help but get a bit of an Anthropologie vibe and I'm delighted to be partnering with Lirola to give this beautiful dress away!
Up for grabs in this contest is one custom-made jersey wrap dress. The dress is made to hit at the knee and features split sleeves plus a fantastic wrap detail that begins at the bust and wraps around the waist. You can customize your bust size on this dress as needed. The default color for the dress is the navy blue shown (it's a little darker in real life) or you can choose another color, though this will extend the delivery time.
Here are the sizing specifications for this dress:
SIZE EXTRA SMALL: Made to order
Bust 33.5″-34.5″, Waist 26.5″-27.5″ , Hips 36″-37″, Dress length 39″
SIZE SMALL: Made to order
Bust 35.5″-36.5″ , Waist 28.5″-29.5″, Hips 38″-39″, Length 39″
SIZE MEDIUM- Made to order
Bust 37.5″-38.5″, Waist 30.5″-31.5″, Hips 40″-41″
SIZE LARGE-Made to order
Bust 39.5″-40.5″, Waist 32.5″-33.5″, Hips 42″-43″, Length 39.5″
SIZE EXTRA LARGE- Made to order
Bust 42-43″ , Waist 35″-36″, Hips 44.5″-45.5″, Length 40″
IN ADDITION TO THE CONTEST, LIROLA IS OFFERING FREE SHIPPING FOR COMMUNITY MEMBERS THROUGH JULY 1 WITH THE CODE EAFREESHIPPING.
Here's how to enter:
Help support independent designers! This contest has three ways to enter. You may enter via one method, more than one, or all three, for a maximum of 3 entries total.
1 – In the comments on this post or via email to the EA contest inbox let me know which Lirola item is your favorite.
2 – You can get an extra entry by becoming a fan of Lirola's shop on Facebook. If you become a fan be sure to note that in your comment/email!
3 – Blog or tweet about this contest. Use the hashtag #EAcontest in your tweet. Just be sure to link to your post/tweet in your comment/email.
The not-so fine print: You are entering to win one (1) custom-made dress as described in this post. This contest is not sponsored by, endorsed by or affiliated with Etsy, Anthropologie or Urban Outfitters. This contest is void where prohibited. This prize is not transferable. This prize may not be exchanged for cash. Once contacted, the winner has 72 hours to claim the prize. International entrants welcome!
The contest will close on Sunday, June 30, 2013 at 5 PM ET. The winner will be announced on Thursday, July 4, 2013 or thereabouts. Good luck to all!