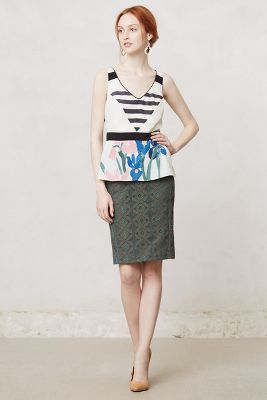 In this set of tops, the shapeless, the sheer, the show-off.
Style #: 26491183; grey motif (008), blue motif (049), black motif (009), green motif (038)
★★★☆☆
Note: If you're wondering my sizing measurements/height/etc, they're detailed on this page.
I'm not as impressed with the Collar-Shine Top ($98) as the online reviewers seem to be, but I do like it. The sparkly collar detail is super cute without being as aggressive as a full collar top. The stripes are a good thickness. I like the choice of an ivory base color.
So what's not working for me? The shapelessness. This top is cut as straight as straight can be. With a layer over it this blouse is really cute! It pulls the eye in, slimming and streamlining. Without a layer on top though the top just makes me look pregnant, or like I'm concealing a really large meal below the stripes over my tummy.
The blouse is polyester although it feels silk-like. The yoke is somewhat sheer — I could see my pale skin color peeking through. The short sleeves are a good length, hitting mid-bicep. And the overall length is also nice, landing low hip. I love the pop of collar underneath the sparkly collar. The grey motif version I tried on had a neon yellow ring, while other versions have black, peach and so on. I tried on a medium which was clearly too big. I'd size down to a small to buy.
I'm wishing this top had more shape details. Anything to define my waist would be great! A cute layering option but not a standalone top for me. Wishlisted, but waiting for deep sale for reconsideration.
Style #: 26379420; neutral motif (015)
★★★☆☆
Here's another boxy top where sizing down will help the fit. Lil's Jukka Silk Blouse ($118) is a taupe top that can appear peachy depending on your skin tone. With my already pinkish skin, the brown tones stand out more. I like the pretty black silk and mesh embroidered neckline, which features flowers and finials. Like the Collar-Shine Top above, the Jukka Silk Blouse has a straight cut that falls from the neckline. Or, more accurately in my case, the bustline.
This top is made from silk (yay!) that's pretty sheer. I think a nude bra underneath would be fine with no show-through but as you can see from the photos above dark jeans will be clearly visible. I tried this top on in a medium and it was too roomy. I'd go down to a small to purchase it.
A promising top depending on your skintone. For me, a pass.
Style #: 27445261; ivory (011)
★★★☆☆
It's not that I mind a loose top, it's just that I still want some shape in there. The Isabelline Jacquard Top ($88) is much more successful in the shape aspect than the two tops I'd tried on prior. This lovely textured polyester top has a pretty v pattern all over it with just enough strips of fabric around the bust to fool the eye into seeing shape. Not that I'd mind more shape around the waist1 The online product shots are a joke — this blouse is super sheer in real life…sorry. Stars off for no layering tank included.
I love the U-shaped scoopneck and the keyhole nape in back. The cap sleeves are fine; they don't billow out. In the summer I could see wearing this top constantly — over a dress, over a bathing suit, over a layering tank. Lots of options. I tried on a medium and found it to feel big so once again I'd size down to buy.
This pretty top has me thinking summer. For that, it's been wishlisted!
Style #: 27331172; neutral motif (015)
★★★★☆
After her fall preview event last week, I'm already excited about what future seasons from Corey Lynn Calter may hold. Until then I'm enjoying the spring/summer items from the line like the beautiful Bands & Blossoms Peplum Top ($98)! This beautiful v-neck tank has stemmed flowers on the front and back, with a striped v-pattern around the neckline for good measure. I love the defined waist and the fact that this tank is fully lined!
I couldn't find my true size 6 on the rack so I tried a 4 on. It fit fine, except that I felt it revealed too much cleavage for day so I'd purchase a size 6. The armholes on this tank are somewhat large. The peplum is generous which helps clearing curvier hips like mine. This blouse fell to mid-hip on me. It's polyester which is kind of a downer, especially since it's dry clean only.
Beautiful, wearable and flattering. Can't ask for much more than that! In my shopping cart.
Style #: 26784967; black (001) or dark grey (005)
★★★☆☆
Online, the Split Boatneck Tee (now $50) looks like an alluring top with sexy cutouts but coverage in all the important places. In real life it sorta lives up to that expectation. This now-sale top is legitimately online only — I haven't seen it any stores despite searching. So I ordered it from Anthropologie's website during one of the recent free shipping promos. It's made from a rayon-spandex knit that is thick but somewhat flimsy. It's very long, hitting below my hips.
I found myself feeling between sizes. The medium started off pretty-hugging, except around the shoulders where it was already loose. I wore it around the apartment for about 10 minutes and already it was loosening up, so much so that I'd worry about it dropping over my bust. And that's my other issue with this top — I think the only bra option is a strapless which limits the utility for me. I want the support of shoulder straps.
I'm undecided on this top. It's likely going back…what do you think of it?
Style #: 27279595; grey motif (004), black motif (009)
★★★★★
It's been awhile since I've given out a five-star review. The Ruled & Ruched Sweetheart Top ($58) deserves it! This cotton top nails everything — fit, shape, details. We begin with a polka-dot pattern around the neckline and over the shoulders. That pattern gets the ruched treatment down the front and back. On the sides, a striped pattern takes over. The sweetheart neckline is stunning. The length is great, falling to mid-hip on me.
Fitwise, the size you take will depend on how you want the top to sit. If you prefer a bodycon fit size down. If you want wiggle room stick to your true size. With the help of input from two friends I decided to go with the small you see on me above. Is it tight? You betcha, but in all the right ways I think. Plus we know Postmark stretches out over the course of the day.
I see this as a date top for me. I didn't wait on this one — the friendly price meant it came home right away. I chose the black motif version to purchase but both patterns are lovely. Can't wait to wear this one out with my guy once he's home from his business trip!
Coming up in my review queue…some really cute dresses (including a couple from Leifnotes, who's killing it right now), more tops, and rompers. Have you tried on any of these tops? What did you think of them? If you own a top from this set how are you styling it? I'm taking reviews requests in the comments as always! Let me know what you think of this set.
Later today — be sure to come back for a giveaway! And tomorrow after a loooong wait I'll finally be running our community submissions of Anthro for the home.