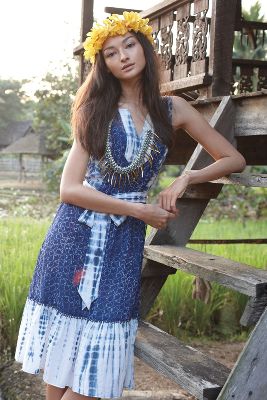 Dresses of all different shapes, styles and sizes in today's displaced reviews set. Reviews on a Saturday? Why not?
Style #: 26104570; multi (095)
★★★★☆
Note: If you're wondering my sizing measurements/height/etc, they're detailed on this page.
A recent free shipping promotion was enough to tempt me into ordering the Devi Dress ($248). This dress is like a piece of Japanese pop art to me and I adore it! The vibrant floral bodice combines with the architectural waistline and an Asian modern fan-print pencil skirt. Yes, it's a lot. But it all works together harmoniously. I hate the high neckline and wish it was a v-neck instead. It was the biggest challenge to me with this dress. The short sleeves seem like the perfect choice. The skirt is very tapered. No vent in the back so beware sliding up with this unlined frock. It sits about an inch above my knees before the slide. I'm seriously impressed by the design of this dress and so glad Anthropologie is carrying it.
This dress is made from slippery poly-spandex in a smooth ponte knit. It's very slippery on the outside and the inside slightly less so. This is a good thing, because the dress runs small. I ordered an 8, one size up from my usual 6. When I took the 8 out of its wrapping I laughed and thought there was no way it was going to fit me. But thanks to the slippery material the dress slid over my head and shimmied down my body just fine. Don't plan on washing this though. Dry clean all the way.
The dress is bodycon. Very, very bodycon. The thick knit does smooth and slim and streamline. But even with that help my thighs were jutting out of the pencil skirt portion. A little less taper and we would have been perfect. I was impressed by how well the top pattern managed my 34D chest. In fact I'd say this dress makes me look pretty proportional which is nice. Maybe even shoulder-heavy? Still, I do like the fact that it hugs and shows off the body.
If only this were a v-neck I would keep it now. Instead I'm returning it and wishlisting for further reconsideration at sale time. There is also a skirt version of this dress but I'm not quite as into it. The dress wins my heart.
Wear it with: The Opaque Tights ($15) in lilac with the pink Floral Hayden Pumps ($140) for something complimentary, or do the tights in blue and the pumps in green to be bolder.
Style #: 26508226; red motif (069)
★★★★☆
The knee-length dress has made its triumphant return to Anthropologie. Another worthy entry to the mix is the Jardim Lace Dress ($298), another one of Yoana Baraschi's lace-upon-mesh dresses. This time it's a silvery-white base with bright pink squiggles. The scoopneck dress has cap sleeves, a defined waist and a pleated skirt. My skirt had been somewhat mushed on a packed rack. The dress has a wide scoopneck and a low back, but not so low as to expose your bra. I found the dress was close to slipping off my shoulders.
My usual size 6 worked great and I think those less busty can size down. The waist of this dress sits in almost the right spot — just a skosh above my waist on me. The skirt falls with some bulk but not overly so. I love the beautiful pink color which makes me wish that spring were here right now.
A pretty dress, a price that gives me pause. Wishlisted but waiting for sale.
Wear it with: The Eyelet Trench ($168), the Mixed Alloy Necklace ($48), the Large Fractal Bead Pouch ($68) in mint, the Flowerbed Clutch ($68).
Style #: 25485657; sky (045), black (001) or blue (040)
★★★☆☆
Attending any weddings this spring? The Lace-Yoke Dress ($138) seems like the perfect guest dress, perhaps a nice bridesmaid option as well. This lined polyester dress comes in three beautiful hues and has a shape that is almost universally flattering. The lace yoke is gorgeous…though bra-revealing. It feels airy and light.
The front has pleats on the bodice and more spaced pleats on the skirt. The waist-cinching embroidered sash is nice, though it did cause the tummy on mine to pooch out. In the back the sash gives way to a basketweave stretch panel. You get in to the dress via a side zip. I'm very sad that this dress isn't silk.
I found a 6 comfortable. It was good across the bustline and easy through the hips and thighs. What a lovely summer date dress this would be! The stomach pooch from the side is a little disconcerting but workable. The main obstacle for me would be needing a strapless bra. For now, wishlisted!
Wear it with: The Beaded Gallacia Belt ($48), the Izabel Mini-Wedges ($176), the Ghita Headband ($32).
Style #: 26851055; purple motif (059), green motif (038), red motif (069), yellow (079)
★★★★☆
The Sunstream Eyelet Dress ($128) is sure to be a spring-to-summer staple and perhaps the purple motif version I tried could be a 4-season dress. Each color of the dress starts with an off-white cotton base upon which an eyelet of purple, green, red or yellow is placed. This simple tank dress has a flattering shape with some great fit details. I love the darts down the front and the pleated but contained skirt. The tank straps are thick enough to conceal a bra yet thin enough to keep me from looking like a linebacker. In the back, a bell-shaped keyhole is topped by a neck tie.
A medium fit well, causing no pulling or stretching. The waist sits a little low on me but I am short-waisted so this is good news for everyone else! The skirt falls to the knee. This dress could easily be belted. Throw a blazer over it for work, or a cardigan. You could also try a blouse underneath.
For work or play this dress seems like a winner. Another one for the wishlist!
Wear it with: The Joelle Blazer ($128) with the purple motif or the Ayora Brocade Jacket ($168) with the other shades. The Glimmerade Cardigan ($98).
Style #: 26526186; blue (040)
★★★☆☆
The Shibori Patchwork Dress ($158) seems part county fair, part beach vacation, part possibly made from curtains. The long, lazy flared silhouette brings summer to mind while the shape is too relaxed to even suggest structure. A wide sash is a nice touch. This dress does have a tank-slip lining which is a necessity with the partially sheer top. The polyester material is hand washable.
A 6 in this dress fit fine. The skirt gets bigger as your eyes drift downward and this can end up making someone curvy like me look bottom-heavy. The top has enough visual interest to balance everything decently. This frock is very long, hitting me below the knee.
A pretty dress that will be more desirable with warmer weather. Wishlisted for reconsideration come sale time.
Wear it with: The Ayden Sandals ($148) as Anthropologie suggests, the Davenport Wedges ($148) in red.
Style #: 26226449; blue motif (049)
★★★★☆
The Tropicalia Pleated Maxi Dress ($228) is an island-ready maxi that wants to convince me to go to back to Hawaii stat. It's a gorgeous halter dress with a beaded necklace color, a cinched waist with or without sash and a maxi skirt that will look incredible when the beachy breeze catches it. I'm looking at flights right now!
It's polyester with a poly lining and you get in via a side zip. I'm mostly impressed that the bodice wasn't turning into an empire waist with my bust. Instead, the waist hits in pretty much the perfect spot on me. Hooray! The pattern on the dress I tried was maybe a little poor, I'd like the white and blue to be a little more balanced. The length was good. I was wearing boots so the dress was about 3 inches off the ground. In sandals I'm sure it would be about even with my toes, an inch or so above the sand. I took my usual size medium.
I'm enamored with this dress and now I just need a tropical vacation to go with it. Working on it! And wishlisted.
Wear it with: The Rainfall Earrings ($38), the Masque Geo Sandals ($128) in sky, the Textured Ombre Loop ($48) as a shoulder wrap.
What do you think of the dresses in this reviews set? Do you own any of these items? If so, how are you styling them? Have you tried any of these dresses on? What did you think? Any review requests? I'll have more dress reviews next week!