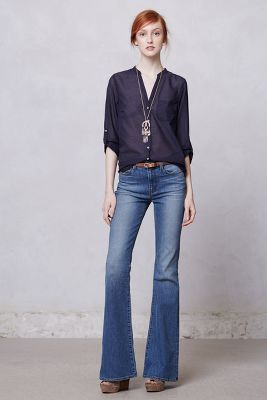 and four more Anthropologie tops.
Work has kept me away from Anthropologie for a couple of weeks but I do have a few items ready to go. More to come next week but for today here are my thoughts on some of Anthro's latest tops.
Style #: 26979070; pink (066)
★★★★☆
Note: If you're wondering my sizing measurements/height/etc, they're detailed on this page.
The Butterfly Blouse ($88) seems like something Anthropologie would have released four years ago, and I mean that as a high compliment. It has the easy-going flowiness I associate with Anthropologie and a simple, feminine design with a twist. There's not much butterfly about this top aside from its billowy split sleeves which are thankfully longer than the cap sleeves Anthro usually favors.There's also a tulip-style split in the back which reveals the pink underlayer of this shirt. Because Electric Love Light understands that sheer tops should come with layering tanks! And for that I am grateful.
I tried on my usual size 6 which felt too big. This is mostly visible in the center profile shot where you can see the shirt standing off my chest on the neckline. I'd size down to a 4 to buy, though those with broader shoulders will want to stay with their usual size. This top is somewhat short on my 5'8″ frame. The underlayer hits just below my waist but the looser outer shell terminated an inch or two above that. I like that this top is machine washable polyester and despite the shortness I can see getting a ton of use out of it in the summer.
I wouldn't want to see a million of these tops but one like this is wonderful. Wishlisted! I've previously reviewed some Electric Love Light items in this post and you can read more about how Electric Love Light came to Anthropologie here.
Wear it with: the Dual Foundation Pencil ($88, review) and Glimmerade Cardigan ($98) for work; the AG Stevie ($164) in Studio for the weekend.
Style #: 26634865; navy (041) or blue motif (049)
★★★★☆
This navy version of the Indigo-Ruled Buttondown ($88) isn't officially on Anthropologie's website yet but if you poke around using the search feature you can find it. I've put one of the product shots for the navy version at the top of this post. I was surprised by how slouchy this blouse looks online — in real life the fit is much closer to the body! The form-fitting version is nice for work but now I kind of wish it was slouchier for the weekend. I suppose sizing up would recreate that roomier effect.
This blouse is very lightweight cotton that's somewhat sheer (sigh) and polka-dotted. The sleeves are button-tabbed to elbow length but unfurl to your wrists. I love the split v-collar and the iridescent white buttons. The top has half-moon hems in the front and back with a cute splash of pink fabric at the highest point of the hem on each side. There's a single pocket on left side and tiny fit pleats in the back.
I tried on a 6, my normal size. The top skimmed my body perfectly though the sleeves were tight. For the slouchier look of the product shot I'd size up to an 8. I adore the tiny polka dots and can see this becoming a work staple. With that in mind, this top is on my wishlist — or will be once the navy version appears online.
One important quality note: Many customers have noted that the polka dots rub off of this darker navy version. My review rating does not reflect this since I did not purchase this top, but buyer beware!
Wear it with: the Level 99 Slim Denim Pencil Skirt ($88, review) in either color for a more casual work look or pair it with something like the Burnout Lace Pencil ($98) in black for cheap-chic work attire. Finish it off with a showcasing necklace such as the Blooming Fondant Bib Necklace ($48). On the weekends I love Anthropologie's styling suggestion of flares like The Bell ($248) by Current/Elliot.
Style #: 26479592; sky (045)
★★★☆☆
Nouveau western-chic? I'm not really sure what to make of the Patchwork Chambray Buttondown ($88), a top which has rodeo lariat necklace written all over it to me. On the one hand I am drawn to the diamnd pattern on the darker bits of chambray. On the other hand the lighter and darker mix, with it's almost military precision harsh right angle placement has me thinking I'm wearing wallpaper. Wallpaper from a stable.
I'm glad Anthropologie resisted the temptation to use silvery buttons on this top, opting instead for admittedly cheaper pearlized snaps. But it makes the top a lying liar who lies — it's not a buttondown at all! It's a snapdown. I think I'd like the pattern more if it were just at the bottom of the shirt — it's an awful lot down the placket to have light denim chambray overlaid with diamond chambray overlaid with solid medium blue chambray offset with piping. Even the shoulders have a touch of the diamond pattern to them, which then runs down the center of the back.
Fitwise, I took my true size 6. The top was loose at the sides but perfect across the bust, with shoulders sitting maybe a little too wide for my body. Beware the extremely loose sleeves which sat crumpled against my sides. I wouldn't wear this top anywhere near machinery that could catch it.
This top is interesting but not something I'd really wear. Back to the rack.
Wear it with: the Pilcro Stet Slim Ankle (now $50) in either dust pink or ivory; over the Devi Dress ($248) with the Loophole Corset Belt ($48).
Style #: 27327220; blue (040) or ivory (011)
★★★★☆
I'm not going to bother complaining about the see-through nature of the Gemma Lace Buttondown ($98). I'm just glad I was wearing a cami the day I tried this on! Although the blue-black intensity of this shirt could be a turnoff, I love it. If you prefer something more subtle this top also comes in a more classic ivory-black option. I like the black cuffs and black buttons as well as the larger collar. Right now tiny boy collars are in and they are so incredibly unflattering to large busts. So I'm happy to see a more proportional collar here!
The floral lace of this top leaves lots of open space. I'd likely layer a black cami like the Spaghetti Strap Seamless Camisole ($24) or you know, just grab the $5 version from Old Navy. The Gemma Lace Buttondown has sleeves that are way too large. So much extra space, especially in the triceps and elbow area! I like how the cuffs look rolled up to the elbow better than left down full-sleeve. There's no tailoring to the back so it just falls down loosely, not even trying to skim the body. The top is a touch longer at center front and center back than at the sides though not to the degree of some of Anthro's other shirts.
Vanessa Virginia tends to be cut small across the bust. With this top however I was comfortable in my usual size 6. I was tempted to size down to a 4 to see if the body would fit better but the buttons were gapping across the chest in a smaller size. So I'd stick with the 6.
This top is undeniably fun with some fit issues. Wishlisted for reconsideration come sale time.
Wear it with: the Lace Print Pencil Skirt ($118) as Anthropologie suggests; the Brocade Pencil Skirt ($98, review) in black; the Brocade Charlie Trousers ($118) in grey motif and the Dashes Knit Blazer ($98) in black or the Peaked Pointelle Sweater ($88) in navy.
Style #: 26769927; grey motif (008)
★★☆☆☆
Oooh, I thought when I spotted the Patched Embroidery Pullover ($88) online. This looks so cute on the model! Cut to me in the fitting room with this top in real life. Oh. Model I am not. And this top, which looks kinda cutesy craftsy hipster online is just ill-fitting in real life. I love the wide scoopneck and the striped back. I do not love the looseness in the sleeves or the boxy fit. My curves demand some attention lest I look like a rectangle. This top is like my own embellished sandwichboard. Refrigerator with children's art projects plastered on it. Street-art adorned signpost. You get the picture.
Among the good features: this top is light but not sheer and is handwashable rayon. The appliques and fabric swatch are cute themselves. I like the low-hip length of the top and the striped-cuff sleeves. A medium fit comfortably though shapelessly. Although cute this top clearly isn't for me. Pass.
Wear it with: the AG Stevie Ankle ($154) in neon lime or the AG Stevie Ankle Hearts (now $100, review); under the Holding Horses Chambray Romper ($148) with the top partially unbuttoned.