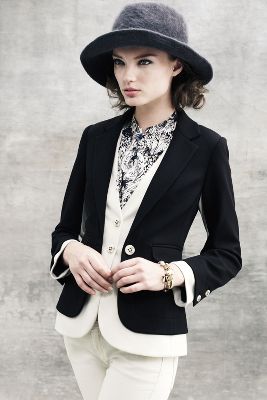 Building upon this morning's reviews set, more takes on tops lie within…
Style # 26029124; beige (024)
★★★☆☆
Note: If you're wondering my sizing measurements/height/etc, they're detailed on this page.
I don't think the Gilded Acacia Top ($98) photographs very well. In person it's quite lovely — a mix of sequins, soft velvet and shiny fabric lie on top of an ivory base that's a bit sheer. (Sigh. Sheerness.) It's got a very 70s shape to it — a v-neck with a tie here, bracelet length sleeves there and a weird seam an inch or two below the bust. This top has its own runner.
I felt comfortable in my usual size medium. The top sits close to the body in front and hangs off loosely in the back. It hit me below my hips. I think this would be a great Christmas morning top — wear it over a pair of fun palazzos or pajama pants while opening up presents. I'm not so sure that I'd wear this top out. Maybe it would work over sequin pants, though then we are already crossing into loud fashion territory. No, I think this is another around the apartment top for me and at $98 it's not coming home with me at full price.
At best a 2nd cut consideration for me. Comfy, with an odd fit and pretty pattern. Pass for now.
Style # 25984451; lavender (053)
★★★☆☆
Take two from Tiny is the Broadleaf Forest Top ($88), which in lavender is quieter than its gold-adorned cousin. This top has lovely velvety mold growing on the front…and I kind of love it! The sleeves are button-tabbed and sit just above the elbow. The top itself is very long, the sides are the highest part and hit at mid-hip. I am very annoyed by the pearlized white buttons which stand out in an ugly way. No matching buttons Anthropologie? Usually that detail is nailed.
This top fits a little closer to the body than the Gilded Acacia Top ($98) above. There's also a slight gather in the back of this top. Again my usual size medium fit well. I like the split v-neck and how soft this top is. Would I wear it to work? Probably not.
Moldy velvet and I like it…it's growing on me. Heh. Anyway, wishlisted for reconsideration at sale time.
HD in Paris's Ruffled Picea Buttondown ($88) runs large. How large? I accidentally grabbed a size 2 (I saw the 6 on the label for UK size and thought it was US size) and it still fit me. I think a 4 would be better and that's one size down for me. So true size 2s and 0s are going to find this ruffled blouse to run large.
This polyester blouse feels silky and has a beautiful black-and-white pattern on it. My iPhone camera had some trouble focusing on the top. The sleeves have a slight cuff at the end and sit right on the elbow — not entirely comfortable. It is comfortably long, hitting mid-hip with a v-neck that comes down just enough without showing too much. I like the blue buttons, which pop nicely off the otherwise muted blouse.
Size down in this one for sure. Wishlisted!
Style # 25662347; dark grey (005), turquoise (046), dark orange (081)
★★★★☆
It's great to see this classic Anthropologie design back for another round. Deletta's Puckered Placket Turtleneck ($58) has the challenge of purposeful puckers over the bust, but does an excellent job of making it flattering. Though the top is technically a turtleneck the neck portion sits far enough away to keep my gag reflex stifled. It's also nice and long, hitting me mid-thigh. Perfect for layering! The material is a bit thin but not sheer. The sleeves hit below the elbow — long sleeves would have been my preference.
I instinctively reached for the grey version because it layers easily. But you could also go for the rich turquoise (very flattering on skin-hair combos like mine!) or a dark orange. No cranberry red? Perhaps this top will get a second wave of colors. I found a medium to fit well, skimming my body and hugging all the right places.
A $10 bump in price from previous versions…but still worth it. This top will likely come home with me at full price.
Unknown shirt by Bordeaux ($44), TTS
style and color information to come
★★★☆☆
This Bordeaux top doesn't seem to be online yet. It's yet another navy striped shirt with a wide scoop neck and a perpendicular pocket. It kind of looks like I'm in stripe prison, no? It falls with a loose drape, particularly in the back where a longer tail seems to float away from the body.
On sizing, your perfect size will depend on how you want the shirt to sit. If you want a slightly more fitted drape size down but note that the shirt is shorter that way. I was happier in my usual medium which yes was much looser but fell to a more natural point on my body. If you like the stripes but not so much the shape, try the similar but in peplum Striped Peplum Top ($58).
A tricky fit, and I already have a couple of similar tops. Back to the rack.
Style # 26083360; red motif (069)
★★★☆☆
Does anyone else think of Charlie Brown when they see the Colorblock Lace Tee ($118)? I know the colors are wrong but I can't help but see Peanuts when I look at this top. A lined beige chantilly lace is spiced up by a thick swath of orange. I think this would look very cool peeking out from under a blazer. On its own? A little tougher to say. The sleeves are short sleeve style and the top hits low hip.
I found this piece to run large. My usual size medium was very loose. I recommend sizing down to purchase. With so many lace options this year this top does stand out…I can't decide though if I like the orange or not. While I figure it out, this top will wait on my wishlist.
Style # 26227611; ivory (011), grey motif (005), navy (041)
★★☆☆☆
Postmark has created a beautiful portrait top in the Sweetheart Peplum Top ($58). I adore the neckline! Unfortunately that's about all I like on this top. The peplum is pretty but too boxy on me — it juts out too far from my already plentiful hips.
It's also oddly sheer which is never OK. I like the sleeve placement and the overall length, as well as the darts down the front. I tried on a medium which fit well…a little loose at the neckline but nothing too bad. Still, I can't get on board with the odd sheerness or the peplum that's too big. Cute, but a pass for me.