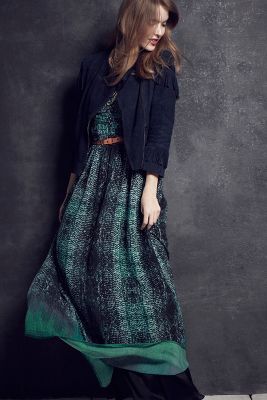 Continuing dress reviews day here on EA this set features five more dresses I tried on recently at Anthropologie, plus a sneak preview of a beautiful new frock that hasn't hit the website yet.
Style #: 4130204589797; blue motif (049)
★★★★☆
Note: For sizing reference I am 34-29-38, a size 6/M in dresses. I'm 5'8″.
The silver chain you see on me is the necklace I was wearing the moment I tried on the Emaline Dress ($198). (It's an older Anthropologie necklace.) Don't let it distract you from this pretty v-neck dress with its Southwestern print and textural red center stripe. There are lots of zippers. Zipper pockets, exposed back zipper. The dress is thicker material and has some weight to it. It's cotton-spandex with an acetate lining. The fit and flare shape is wonderful.
I'm in my usual size 6 here and it fit perfectly. The dress reveals a bit of cleavage — I found it lovely. The waist nips in nicely and the dress spills to just above the knee. I found the skirt a little stiff though I'm glad it's not huge. Pleats keep everything in check. Another thing I don't love is the exposed zipper. This reads as a more casual dress to me so it's not horrible, but I'm over them. No more exposed zippers please!
A cool dress that has multi-season potential. Wishlisted for reconsideration at sale time.
Style #: 4130077003611; red motif (069)
★★★☆☆
Although I'm all for symmetry the Crisantemo Dress ($298) might take spatial balance a bit too far. This dress is effectively a mirror image of itself on each side and the result is something a little less than the sum of its parts. Looks cool on the model, not as enamored with it on me. Part of the problem may have been that my usual size 6 was very loose. You'll want to size down in this dress for sure.
The dress is the same embroidered mesh cotton Ms. Baraschi nearly always uses though the execution here is completely new. It's beautiful! I love the red and pink upon the creamy base, which looks dark grey thanks to the mesh. But I had several issues with the way the dress sits on me: the neckline is too high, the sleeves are imposing on my torso, creating a weird effect, and the skirt is too mirrored for my liking. I wish the pattern were offset just a little more. The symmetry on the bodice is fine. I found this dress to hit me about an inch above the knee. There is a concealed back zip that will require some help to zip up — it's not difficult, just high.
Gorgeous color palette but the execution falls short for me. Back to the rack.
Style #: 4130209022430; moss (031)
★★☆☆☆
Well…no. The Kalos Maxi Dress ($138) looks nothing on me like it does on either the catalogue model nor the website model. I wasn't quite expecting it to look this bad though! The double-layer maxi has a back-split top and a straight skirt with two long side pockets. It's khaki-colored rayon with plenty of give.
I'm in a medium here which is my normal size in Bordeaux. The dress was pleasantly loose. I think you can safely size down if you choose, though I'd prefer the freedom of my normal size. It's a little short, hitting me above the ankle. I'm really not sure what this dress is supposed to be. It confuses me!
Boho? More like boho-no on me. Back to the rack.
Style #: 4130236200002; green motif (038)
★★★★☆
Spectacularly long, sadly sleeveless. That's my main take on the Vernalis Maxi Dress ($198), a gorgeously patterned green maxi dress. The bodice features a sweetheart neckline and horizontal pleats of a snakeskin print. The skirt portion rotates that print 90 degrees for a beautifully elongating effect. Though the dress is polyester with a netted poly lining, it's quite dressy. I think it would be fine to wear this for day with a jacket over it but you could easily wear this to a fancier beach party too. It reads more formal.
I tried on a 6, my usual size. It fit very nicely. As mentioned above this dress is super long. I'm delighted! A maxi I can wear heels with. Yay! (There is a petite version as well.) This dress is begging for a belt. And a collar-framing necklace.
Lovely, lovely, lovely. I'd buy this and sew straps in. Wishlisted for now!
Style #: 4130271391234; blue motif (049)
★★★★☆
For those unfamiliar, Darling is a British brand aimed at young adults. Juniors to we Americans. So while adults can also easily fit into the Passerine Sheath ($138), people like me with curvier proportions will find it trickier. I'm glad to report that I had a much easier time with this Darling dress than many of their past, equally adorable styles. The origami fold at the waistline is what really attracted me to this beautiful frock. The higher neckline and classic floral print make this dress both work and date-appropriate. Double-duty is always appreciated! I love how this dress looks on the website (especially with the Vidigal Heels!) and was very pleased to see that it translated well in real life.
The issues I usually encounter with Darling go something like this: often the proportions of the design are off for my womanly body, where the torso might be too short or perhaps the skirt; or the dress will be just plain too short, or the shoulders inordinately tight. Luckily I experienced none of those issues here! I wonder if Darling is now making more adult woman clothing? Anyway, I skipped trying on my usual medium and went straight for a large to help out on length. The large still hit me above the knee by over an inch but was much closer. You can stick with your true size if length is not an issue. The dress is about 35″ long in a large.
There was a ton of extra room in the back however, as shown in this photo below of me holding all that extra material:
Nothing a tailor can't fit though. The back zipper is exposed (ugh) but there is a beautiful thick sash that will distract from that ugly, ugly zipper. And while I prefer a lower neckline for my shape, this high one is still pleasant enough.
So pleasant in fact that I bought this dress as part of my birthday haul. Wondering what else I got? Come back to EA tomorrow to find out! Before I go, how about a sneak preview? Scroll on down, friends.
Look familiar? This dress is a new spring version of last summer's Aria Dress (review) by Maeve. It's been updated with a polka dot print and a more textured black & grey base but is otherwise the same. Same gorgeous neckline, same overall fit. I took a 4 in this dress. Will have a full review as soon as it's on the website! Update 2/4/2014: this is now online and called the Nikola Dress.
Looking for more dress reviews? I posted another set of dresses earlier today and will be back with even more reviews next week! (Sweaters and skirts too.)