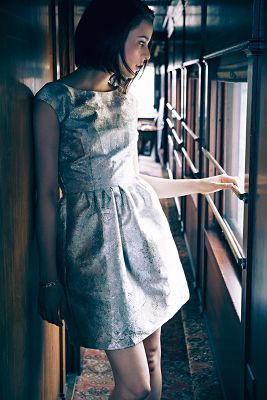 Holiday party season is here and Anthropologie has a plethora of pretty frocks that seem perfect for a evening's festivities. On a recent trip to around the NYC stores I tried on some party dresses as well as a few day dresses that jumped out at me.
Style #: 29409356; grey (004)
★★★★☆
Note: For sizing reference I am 34-29-38, size 6/M in dresses with a 34D cup. I am 5'8″.
With Anthropologie you can never be sure if tunic means dress or, well, tunic. In this case it's the former. The Cowlneck Sweater Tunic ($138) is easily long enough to be a dress, especially when paired with tights and tall boots. This otherwise grey sweater dress has a taupe band at the bottom, a large cowlneck and is not at all itchy. It's mostly cotton content makes it nice and thick with sleeves that are a little tight. The sleeves are bracelet length and the dress hits about two inches above the knee, below the fingertips though.
I get nervous about diamond-shaped sweater patterns as they tend to widen. I don't think this dress is very slimming, but it's not widening either. The pattern is helped by a side trail of alternating darker and lighter boxes with a cable braid under arm (you can see this best in the far right show above). The dress didn't nip nearly as far inwards as my waist does. Over my hips and curvy thighs the dress hugs but not overly so. It's close-fitting but not constrictive. I'm in my usual size medium which felt like the best fit.
I think this is a wonderful day dress, though I wish the dress cinched in more at the waist. For a sweater dress it's got a pleasing shape, is comfy, does not itch and is reasonably warm without feeling like a furnace. For all these reasons this dress is wishlisted!
Style #: 29465523; red motif (069)
★★★★☆
I've loved most of the Peter Som for Anthropologie items. The Brushstroke Blossoms Dress ($248) might be my favorite! This dress is certainly festive but doesn't necessarily scream holiday. The lace bodice is especially lovely — lace can easily slip into dowdy territory. This fun frock feels youthful without crossing over into juvenile territory. The black waist sash is purposely frayed at the tips over a simple red band of grosgrain. The skirt spills to the top of the knee and is pleated but not overly voluminous. There is an exposed back zipper in a subtle gold.
The waist on this dress is very tight compared to the rest. For an hourglass like me that's perfection! I found my usual size 6 fit wonderfully and felt comfortable. If you have a straighter shape you may need to size up for comfort reasons. The skirt has layers of tulle that help the shape stay true without too much pouf. This dress is beautifully constructed! Side pockets are an extra nice touch.
Beautiful ladylike elegance that can be worn for more than just holiday parties. Another dress on the wishlist!
Style #: 29449766; pink (066)
★★★★☆
It's so easy to fall in love with Eva Franco's dresses and the Sugarberry Dress ($298) is no exception. This beautiful dress has a lacy top and a heavily sequined mesh bottom. It's pink like cotton candy, a dustier pale version of the color rather than a rosy or neon hue. The dress has an open v back and comes to just above the knee. It's amazing to look at and fun to wear!
This dress is heavy to wear but not so heavy that I'd feel weighed down from dancing. Although the inside of the dress is lined I still felt some sequin scratches. In addition to all the pink sequins there are also tails of smaller gold sequins running all over the dress. A beautiful detail that adds to the ethereal effect. I tried on my usual size 6 but if felt large, especially in back. So I'd go down to a 4 to purchase.
For me, the only issue with this dress is wearability. It feels maybe a bit too young for me…maybe if I were Keira Knightley I could pull this off but my style isn't exactly light, ultra-feminine frocks like this. (I enjoy wearing them anyway though!) I am attending 5 holiday parties this year but couldn't think of one where this would be the right dress. I feel like it's too much for a wedding unless I were the bride. So that leaves the question; as beautiful as this dress is where on Earth would I wear it? This is that dress I'd love but it would just sit in my closet unworn. Wishlisted, but unlikely to buy it.
Style #: 29685971; silver (007)
★★★★☆
Maybe it looks like a little like tinfoil in the photos but rest assured that the Pirouette Dress ($228) is a delight in real life! This USA-made dress kind of looks like the wallpaper Anthropologie uses as a backdrop in catalogues from time to time: distressed with a certain romantic quality to it. The high neckline is somewhat challenging — even the model has some fit issues with hers. The back is a beautiful high v-neck and were it not for the zipper I'd be tempted to wear this dress backwards. (Side zips are your friend, Weston Wear!) The skirt is a bell or tulip shape and a little poufy. It hits an inch or so above the knee.
I found a medium much too roomy so it's down to a small I went for these photos. Cap sleeves aren't always the best for me and I don't love them here, but otherwise this dress seems great! The bodice is very form-fitting while the skirt is loose with a nipped waist between them. There are side pockets too.
I think this dress is great fun! I'm not so sure about Anthropologie's price though, as it seems you can get this dress for less elsewhere. It was available at 3 stores last week for prices ranging from $120-$200 though now I only see it here for $168. It's called the Karina Dress if you want to search it out on your own.
Style #: 29380326; ivory (011)
★★★☆☆
Anthropologie is experimenting with some more downtown styles. The Texture Range Shift ($158) is a nice cross between Anthro specialness and trendy downtown chic. The dress is a boxy shift with leather paneled shoulders and pockets and tight ponte sleeves. Mostly a nubby tweed with flecks of hold, the dress is office-ready for many environments so long as above-the-knee is OK. The sleeves come just below the elbow.
I'm in my usual size 6 here which is loose everywhere but the shoulders. I'm not a fan of shoulder cut-ins because they make me look like a linebacker. But this dress almost passes muster. The body of the dress is totally shapeless, thus concealing any curves. Could be a good thing or a bad thing. I felt it looked a little strange from the side, where it spilled downward from my chest in a maternity-esque way. I'm not pregnant though.
Could this dress be a winner? Quite possibly; seems it has a lot of fans online. For me however it is a pass.
Style #: 28249233; black (001)
★★★★☆
How wonderful it is to see Orla Kiely's clothing carried at Anthropologie again! An Orla Kiely store opened in NYC two years ago but the store has such odd hours that I rarely find myself going there. This is the Piped Colorblock Shift ($398) which I found on the last chance rack at the 5th Ave Anthropologie last month.
I thought it was odd how the online shot has the model's arms so close to her sides and now I know why — the skirt portion of this dress is pretty fussy. It wrinkles, the pockets cause the skirt to pouf a bit, and it's also pretty body-hugging in the back! The top portion is fantastic with its modern shape and piping. Another great work option — throw a cardi or cropped blazer over this and you are ready to go.
I tried on my usual size 6, which seems tight through the skirt portion. It would have been nice to be able to try on a size 8 for reference — I have a feeling the 8 would have been loose top but perhaps tailorable. I often find myself in between sizes with Orla Kiely.
Is this dress worth $400? Probably not, though I feel many of the other Orla Kiely options are. This one's just a little too fussy to charge full price.