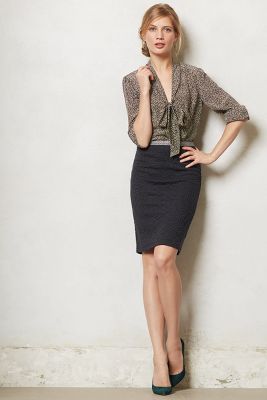 Skirts, skirts, a winter staple for me. (And a summer one too I suppose.) I love wearing them with tights and pumps to work or braving 10 seconds of cold from cab to destination on holiday party dates. Inside, a look at several of Anthropologie's current skirt offerings.
Style #: 28443208; brown motif (029), blue motif (049), red (060)
★★★☆☆
Note: For sizing reference I am 34-29-38, size 8/M in skirts and 29 in pants. I am 5'8″.
A little too mini for my tastes, the Audra Pencil Skirt (now $70) has very little give. This pencil skirt has a wide waistband with two accent buttons (not functional, there's a side zip). This brown motif version that I tried has a crazy mix of patterns that remind me of wrapping paper. But is a skirt really a pencil skirt when it doesn't taper in over the thighs? I dunno. It's across the hops and around the waist that this skirt is tight. Constricting even. Anthropologie says this skirt is 19 inches long, to which say….mmm, no. Eighteen inches seems more likely to me and that might still be generous.
The skirt has a cotton-poly outer shell. That part fit fine. The fit issues for me stem from the spandex lining, which pulls against the skirt wherever it's attached. So in the fit photos above you see pulling at the sides in the white/black stripe which then makes the skirt pull across the front. The outer shell fit fine; the lining was driving me nuts. I'm in my usual size 8 here. Would sizing up to a 10 help? I couldn't find out on my own since this skirt was on the last chance return rack with no 10 to try. I'm going to recommend sizing up and hope that would fix the lining issues. Issues which Anthropologie seems to run into surprisingly often in both skirts and dresses. It's very odd.
In the winter I suppose the length wouldn't matter as much; I'd be able to layer tights underneath. But in all other seasons I think this skirt is too short on my 5'8″ leggy frame to feel comfortable. I'm interested in the red version but I think I'll wait for a second cut before investing.
Style #: 29249687; grey (004) or red (060)
★★☆☆☆
The online color descriptions for the Calabria Pencil Skirt ($88) are off in my opinion — this color I tried on above is like a faded black and the "red" I tried below is more like a rose pink. I tried this skirt on twice because the first time left me feeling sorta lumpy. The second time…not much better. This skirt is made from polyester, rayon and spandex. It feels like a sweater skirt and I love the shiny waistband! On the hanger it really looked adorable. Online it had me swooning. It comes down to the knee and sits just below the waist.
In the fitting room it was an entirely different story. I'm in the medium for these photos of the "grey" version of the skirt. The skirt has no lining and hugs the body very tightly. Unfortunately, it also magnifies any lumpy bumpy and turns usually flattering curves into over-emphasized protrusions. I was downright mystified! The pattern on the skirt is gorgeous and lined up well in the back and sides at the seams. But it really looks awful! And the waistband of the medium was really loose too.
I figured sizing up might help the overall fit, so I decided to try on the "red" (not red at all, more pink) in a large. That was a horrible idea…
…because it was even worse. There's just not enough give through the thighs or really at the knees either. Pencil skirts are usually rockstars on me, making every curve look amazing. This is possibly the worst pencil skirt I have ever tried on, and it's upsetting because it looks so cool online and on the hanger. Boo Anthropologie. Back to the rack.
Style #: 29581089; black motif (009)
★★★★☆
Like a crosshatch canvas, the swan on the Odette Skirt ($168) looks a little fuzzy from far away while up close the details are truly a sight to behold. I love how there are little flecks of white paint trailing upwards from the swan's wing, mimicking the effect of water splashing as the bird lands upon the water lining the bottom of the skirt. Made from a thick, dark grey-nearly black wool, the skirt has unfinished outward-facing side hems in a sturdy, thick rendering. The skirt hit me across my knees — an ideal length.
I found my usual size medium to fit perfectly. The skirt is not lined so itch-prone people may find this skirt intolerable. I thought it was fine. There are lots of loose fibers across the painted part. The skirt has gentle give through the waist, hips and thighs and falls straight from thigh to knee. A lot of times I'm left with very loose waists in the size that makes it over my thighs, but I was pleased that the waist in the medium was right up against my tummy.
Here's a full-length shot:
Shown here with the Beatrice Peplum Top ($68, review). You'll want to pair this skirt with something that has a tailored or structured waist. It's lovely, lovely skirt and it is on my wishlist!
Style #: 28314235; kelly (033)
★★★★☆
A little mod goes a long way with very cute but very rough Emerald Flounce Skirt ($98). This felt skirt has some design details that are perfection and others that miss completely. Pros: The flounce, the waist button details, the length which is helped quite a bit by the flounce. (It's 18.5″ inches in the regular.) Cons: the pockets. They are placed too far apart. No wonder we only see the online model from an angle! In my opinion they need to be front facing. Right now they make the skirt look wall-eyed. Luckily the placement doesn't over-emphasize hips, but it's odd. I'd feel the need to wear a longer top to at least partially cover them.
I found my usual size 8 to fit perfectly. I zipped the zip but didn't close the hook-and-eye for these review photos. The skirt did hug my butt but not too closely, and the flounce makes it seem longer than it actually is. Walking will make the flounce bounce though I never feared a true wardrobe malfunction or danger of flashing anyone.
A lot of the online reviews note that this skirt feels cheap. Is felt supposed to feel expensive? I think it looks fine, kind of like fake grass in the winter. It's rougher wool to be sure but I don't think that's a bad thing here. Coarse against the skin but not overly itchy. For me the dealbreaker is the color. I know I'd hardly wear a green skirt. I'd love to see this come out in navy, or black, or even a beautiful winter ivory. This green version is a pass.
Style #: 28305084; orange (089)
★★★☆☆
The Karavi Skirt ($188) is a piece you have to see in real life. No photo does the beautiful medallion paisley print justice. This true a-line skirt has an elasticized waistband and sharp pleats in a structured, somewhat stiff polyester-acrylic material. It is shorter than it looks from these photos. I would say this skirt is maybe 18″ long, which again as a tall person is pretty disappointing. Retails are allergic to knee-length skirts because…?
In terms of fit I found the medium to run very large, especially around the waist. So I'd size down to a small to buy. The colors are vivid and I love how the blue medallion tips really pop off the orange-purple-red-brown base. This skirt looks rich, expensive and luxurious. A cute cropped sweater would pair perfectly with it.
Alas, it is too short for my taste. So it's a pass for me, but highly recommended, especially if you're either 5'6″ or shorter or the kind of tall person who can rock a shorter skirt. You know who you are!