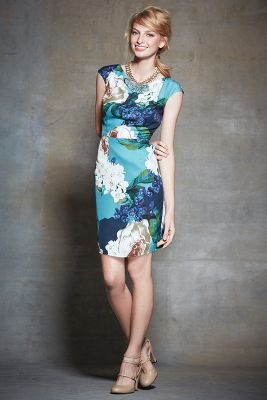 I should have been a little more specific when I wished for the
Back in April I had the pleasure of attending Corey Lynn Calter's Fall 2013 presentation at the Jane Ballroom. CLC and Anthropologie have a long and storied history among Anthro fans that includes memorable pieces like the Caranday Dress, Monochromatic Corset Dress, Sugared Dress and Ackee Pencil Skirt (which I own and love!) just to name a few. There were several Fall 2013 pieces I hoped to see at Anthropologie, including the Malmaison Petite Dress ($158).
I sort of got my wish. A couple of weekends ago Anthropologie unveiled a petites-exclusive collaboration with Corey Lynn Calter. I can't help but be a bit jealous of my smaller-framed sisters. Inside, a look at the pieces from the collab and a community report from the collection launch party in Corte Madera, CA.
These pieces are a great mix of day and evening. Some, like the Jeweled Arezzo Petite Maxi Dress ($298), have me drooling, although I know there's no way the 56″ length would work on my 5'8″ frame. Love that the skirt slit is adjustable via a zipper! The Onca Petite Sheath ($198) features a very cool pattern that I've also noticed on pants elsewhere as well as a another tank-with-peplum dress that seems to be sold out everywhere. Little wonder that.
The Deco Chain Petite Shift ($248) has already sold through its Anthropologie allotment and I'm not sure if they will order more. The Bara Petite Dress ($198) has a non-petite cousin in the Split Dots Dress ($198, review).
What I love about this collection is that it has a fun mix of rock edge and whimsical fun. The materials run the gamut from viscose to silk. Overall the pieces have plenty of attention to detail, from darts to well-placed seams to defined waistlines. Is it too much to hope that regular-length versions of these items will appear on Anthro's website eventually? In the meantime I'll be cruising to Olive & Bette's (a NYC clothing chain store) and Purdy Girl (another NYC store) to see what they're stocking from the CLC fall line.
Like this pretty look below for instance that's been on my mind since the show. It's not part of the Anthropologie collection and so far I've had no luck finding it anywhere, including Ms. Calter's own site.
When the collaboration launched Anthropologie celebrated at its Corte Madera store. Community member Thessa attended the party and wrote up a report on her blog. She even got a photo with Corey Lynn Calter! I love it. Much like the Eva Franco petites party a few weeks ago, it's great to see Anthropologie introducing the designers to Anthro lovers in person. Kudos to the designers for meeting and greeting the ladies at these parties.
Even if I am a little pouty about being sized out of these cool petites collaborations, I'm happy to see stuff like this at Anthropologie. A whole segment of its shopping audience is being specifically catered to and that's wonderful. Now if only they'd do tall or plus.
What do you think of the Corey Lynn Calter petites-exclusive line for Anthropologie?