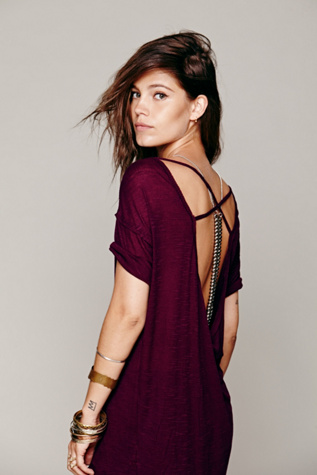 How about a little rock n'roll with your boho?
A bunch of you have asked me what's on my Free People wishlist at the moment. How about a little Saturday meandering with Anthropologie's sister brand?
Free People is one of EA's affiliate sponsors in part because I love the brand so. While Anthropologie satisfies my adult yearnings for clothing that is practical yet expressive, Free People satisfies my weekend draping and slightly sexier machinations. When shopping at FP I'm much less concerned with structure, material and practicality. Curiously though the target audience for Free People is younger I find their price points often exceed Anthropologie's by quite a bit. The material and quality is very hit and miss so I recommend trying on items before you purchase whenever possible. In general I've been very satisfied with my purchases but I've been let down more than a few times by an item that looks incredible on the website yet sad in real life.
So what's on my FP wishlist right now? Tons. My most recent purchase is the Meadows of Lace Slip ($198) which you can see on me in this edition of Reader Outfits. This chemise runs large; I purchased it in a small instead of my usual medium. Many things at Free People seem to run large. Aside from the slip I didn't need much in the way of summer clothing this year so my spending has been non-existent. Instead I've been eyeing fall and winter — my two favorite clothing seasons!
While watching the new releases I hit the photo you see at the top of this post and immediately fell in love with the spine body chain. It's pretty damn cool. So of course it was sold out on Free People's website. Luckily the brand that makes the chain, Litter SF, has a full stock of both size runs for $175. I ordered the medium/large and am quite happy with it! If you have a larger bust or ribcage I recommend ordering the larger chain size — it just barely fits over my chest. It's very likely that I'll order the We the Free X-Back Tee ($68) to go with the chain.
The two items topping my wishlist at the moment are the Mod Stripe Tunic ($148) which is not yet in stores for me to try on and Jeffrey Campbell's Anslie Ankle Boot ($198). The boots are pretty comfortable and run a half-size small in my opinion. Instead of my usual size 9 I tried on a 9.5 which felt great. The heel is 3.5″ which yields height without the walking pain some of Campbell's boots can induce. Best of all, the side straps are adjustable so that people without model-thin legs (i.e. me) can still wear the boots as slouchy ankle stompers.
I plan to wear the tunic over leggings with tall boots, assuming it isn't too short on my 5'8″ frame. I love how Free People lists the model's height and sizing on each product page! Why can't Anthropologie get on board with this??
Over in the pants department I'm saving my pennies for a couple of pairs of printed pants. I haven't been able to find the Ditsy Floral Ankle Crop ($78) locally so I guess I'll have to buy to try. A little annoying but at least Free People does free shipping on orders of $100+, a tally I can easily surpass. The pants have a cute small pattern on them in a neutral tone. I'd pair them with tall boots for a military-esque look. This pine color in the photo is my favorite. I plan to order in my usual size 30 based on the product reviews.
I have tried on the FP Printed Cord Skinny ($78) and they're awesome, especially if you're tall like me! (I'm 5'8″.) The pants came down below my ankles and just barely avoid scraping the floor. The cord material has a hint of stretch to it which concerns me; I hope they won't stretch too much over the course of the day. I love this floral print! It will be great in the winter. I found my usual size 30 to fit well, maybe even a bit loosely. The pant is very low rise though, so when I sit down there was a little crack exposed. I'll wear a long shirt with the pants to combat this.
Come the weekend I prefer my tops loungey and a little larger. Free People has a bunch of options that I could pick up. I love the Lost and Found Tee's ($58) long tail and find myself torn between the white and butter colors. The shorter sleeves of the We The Free My Best Tee ($58) will be good during the early fall days when it can still be very warm. Speaking of sleeves, the We The Free Angel Trumpet Top ($58) looks amazing! I really want to try it on.
Of these tops the only one I've seen in person is the Not So Sweet Victorian Top ($98). I liked the fit (size down, I took a small instead of my usual medium) but found the shirt just a drop too short on the sides. With a skirt and cardigan this top would be great for work. Would I wear it often? That's what I'm not sure about yet.
I didn't know it until recently but Free People has expanded its intimates offerings to include a broader range of sizes. Many of their styles now come in D and DD cups which is great for me! I used to think of FP's bras as mostly bralettes with no structure or support but in my last few store visits I've discovered pretty frilly options with plenty of support for my bust. Yay!
In terms of sizing their stuff runs the gamut so you really need to try it on. Right now I'm loving the Lace Plunge Underwire ($48) bra, which I found worked best on me in a 32DD. (I'm usually a 34D for reference.) The band seems to run large and in a 34D I found extra space in the side of each cup. The bra has something called a half-wire which basically only goes under the bottom of the cup. It's very comfortable but still supportive. I also like the Lace Triangle Bra ($38), though as of now only the new ivory variation comes in the size 32DD I need. This bra has a tiny back band but still holds me up. I love that small back band — makes it much easier to wear low-back shirts! And the design is lovely.
If you haven't taken a look at Free People's intimates I'd encourage you to give it a shot. Along with the Gap Body stuff, they are my favorite bras at the moment. And, pssst, Anthro, it would be awesome if you'd start making your bras in D and DD cups too!
And finally on the accessories front Free People has long been a cold-weather staple shop for me. I loooove their tall sweater socks. This year I'm leaning towards buying the Cozy Sweater Tall Sock ($20) because with a name like that how can you really go wrong? The Harris Military Cap ($58) will either look great or incredibly dumb on me. Looks like I'll have to order it to find out either way. And finally I am a fan of circular pendants, so of course I love the Ax and Apple Etched Eternity Pendant ($178)! It looks fantastic on several of Free People's product pages over tee shirts, which is how I'll likely wear it most often. It will also look great with a flowy dress.
That's what's on my Free People wishlist right now! What's on yours? Have you purchased anything from Free People lately? If so what did you get?