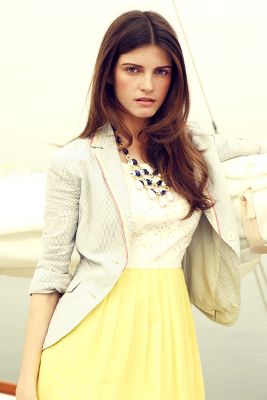 When the model wears a blazer, I'm instantly dubious about the fit.
My girlfriends and I have been saying one thing about Anthropologie more and more lately: they seem to be ignoring larger busts. That will be a common complaint in this reviews set which features beautiful dresses that are challenging for those of us rocking anything above a B.
Style #: 27859388; blue (040)
★★★☆☆
Note: If you're wondering my sizing measurements/height/etc, they're detailed on this page.
Lilka's Threaded Tides Dress ($68) looks beautiful on the online model and I'm sure that with her body shape this dress would look lovely on me too. I prefer the body I have but not the way this dress looks on it! This simple, lightweight cotton frock has an overlaid v-neck with white piped scallop trim and Moroccanesque embroidery on both the bodice and skirt. An elasticized waist cinched in fantastically though it leaves my hips looking extra plentiful. The skirt is lined and falls a few inches above the knee on my 5'8″ frame.
This dress runs large. I sized down to a small for these photos. I also tried on a medium just to see how it'd be. While I liked that the skirt was longer in the medium the top was slipping off of my shoulders. In the small everything stayed in place but I think the bodice looks wonky due to how much I'm filling it out. I feel that the placement of the embroidery makes me look droopy. In terms of quality the gauzey material is tissue paper-like and I would not expect to own this for years. Maybe for a year or two. For $70 that's not an awful deal.
Clearly this dress isn't meant for my body shape. It's a cute one-season frock but an easy pass for me.
Style #: 27256486; neutral motif (015)
★★★☆☆
Made for sunny summer days, I can't help but be cheerful when I look at the Laced Lemondrop Dress ($168). Although this was another dress that didn't really work on me I like all the ideas. The cute scalloped Peter Pan collar that sits against the top part of the dress. The darting around the bust which is sadly misplaced (at least on me) and makes the dress stick out away from my body. The skirt with tighter knife pleats up top and gentle wave pleats below. The intense neon yellow color of the skirt!
Made from linen (the skirt) and cotton (the top) this dress will wrinkle some. The top has tons of snowflake eyelet that are fully lined so nothing below is revealed. I was impressed that the blue undergarments I was wearing didn't show through at all. In the back, the top has a cute string tie at the nape.
I get really frustrated with the online model in this dress. It seems like everything that looks amazing on her is awful on me and everything that looks awful on her is amazing on me. At least it's consistent? This particular dress looks great on her and so that left it looking blah at best and blech at worst on me. I hate how short the bodice looks and the way the bust is pulled away from my body by the darts. The skirt portion is lovely and tumbles to my knees but the wrinkles are annoying. I'm in my usual size 6 for these photos and I feel the dress runs true to size.
Once again this dress is lovely I'm sure but it's not lovely on me. So back to the rack it went.
Style #: 27599489; red motif (069)
★★★☆☆
Girls From Savoy has been releasing this same dress shape in different patterns and prints for about 3 years now. The first 2013 version is the Garden Party Halter Dress ($138). This cotton dress has a poly lining, pockets, a removable halter strap and a ditzy floral print. The dress is wonderfully long, hitting me just below the knee. In the back the stretch panel helps to accommodate a range of bust sizes.
It's such a cute shape yet it is always a challenge for me. It seems like GFS made some changes to the fit this year but those changes are not helpful at all. The midsection has always been a problem for me in this dress pattern. No change there — holy bubble butt! It's most visible in the profile view above where it looks kinda like I'm wearing a beachball around my middle. Another strange issue is that the halter strap is wayyyy too long. My shoulders are hunched in to keep the dress from falling down. I'm wearing a size 6 in these shots but it was loose everywhere. Unfortunately when I tried on a 4 it was uncomfortable around my bust — too tight. So I'm in between sizes. And disappointed by the poufy midsection.
Another pretty dress that fights my body shape. I surrender. Pass.
Style #: 27312925; black motif (009)
★★★☆☆
A Soho staffer I was chatting with was super excited about the Gathered Sonata Dress ($128). I wish I could match her enthusiasm but to me this dress is just so-so. I love the Stereogram pattern that reads part tropical, part radio wave. The color palette is kind of blah. A v-neck dolman top is cropped and ties in the back with a thick black sash while a simple straight skirt spills below. There are side pockets too and that's always a good thing to me!
I was surprised mostly by how short this dress is. It hits me mid-thigh, not quite clearing my fingertips. It also runs smaller than most of the Anthropologie dresses I've tried on recently. In this frock I felt most comfortable in my usual size medium. That sash tie on the top is a cool detail but ends up making you look short-waisted. I know it's not easy to see that in the triptych above.
As a cover-up I think this would be a delight. And so it is wishlisted for reconsideration at sale time.
Style #: 27418565; solid black (009), black (001), blue (040)
★★★★☆
I hate being a whiner so let's talk about a couple of dresses I did like, shall we? First up is Puella's Empire Day Dress ($98). I had tried and liked the similar Market Striped Day Maxi ($88, review) which is also by Puella but much more revealing. I like that this Striped Empire Day Dress has thicker straps. The material is rayon, polyester and spandex which makes it very stretchy. That has its advantages and disadvantages. There are no pockets and this dress is pullover style. I like the panel around the waist, though I did feel it tricks the eye into making me look a little pregnant.
I tried on the blue version in a medium for these shots. The shoulder straps were both loose, wrinkling and puckering away from my body. I love how the dress looks from the side! The store was out of smalls so I headed to another NYC Anthropologie…
…where I found the black version in a small for sizing reference. My one complaint about this dress? It's kinda short. I'm 5'8″ and this dress hits me above the ankles. I prefer my maxis to be close to the ground.
I like this dress a lot! I decided it was worth full price and hunted down the blue in a small. I hope to take some beachy photos of it next week for future Reader Outfit posts.
Style #: 27755214; red motif (069)
★★★★☆
What an adorable 70s inspired sun dress! The Poppy Stripe Dress ($118) makes use of bias and straight and perpendicular stripes to create a beachy beauty. The skirt is maybe a little too full but it could just be that placement on the store's rack had the pleats acting funky. This dress is a cotton-poly-spandex unholy trinity with a back zipper. It feels a little like terry cloth. There are side pockets — yay! — and I love the modified v-neck. It falls to the knee.
I started in my usual 6 but it was roomy so it's down to a 4 for these photos. The bodice becomes empire on me but in this case that's to my benefit rather than my detriment. Although the fit looks very different on me than on the online model I think we both wear it rather well. A first!!! And that's the kind of versatility I'm used to seeing at Anthropologie, where no bust size goes unflattered.
It's difficult for me to choose between this dress and the similar-in-shape Brigantine Regatta Dress ($168, review), which is tops on my June wishlist. It's super tempting to get both. Do you have a strong preference one way or the other?
Next week: Tops! And Pilcros.