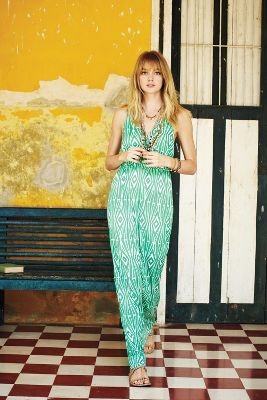 Note: Anthropologie is running a limited-time promotion with some tops priced $35 and under!
Online exclusive might translate to also available at the Upper East Side Anthropologie in NYC, as I found a few "online-only" Anthropologie items there on a recent trip. It's an incentive to visit this faraway land that used to be my home more often; if only the 6 train wasn't such misery to ride. While uptown I found several cute dresses to try and review. Inside, photos and thoughts.
Style #: 27298991; orange (089)
★★★☆☆
Note: If you're wondering my sizing measurements/height/etc, they're detailed on this page.
Floreat's identity crisis continues with the Sequined Kaleidoscope Dress ($188), a dress that is certainly lovely but not even close to what I remember this in-house Anthropologie brand for. This halter-top dress has a sequined tuxedo bib in front and an open racerback closure. It falls to just above the knee on my 5'8″ frame. This wildly bold orange-purple-blue ikat pattern is not so much summer as it is SUMMER!!!! I would be delighted if the fit were better.
Be prepared to size down. This dress runs very large. I am swimming in a 6 in the photos above. Oddly enough, this was one time where I wished the material was something other than silk, because I think this dress would be fun over a bathing suit. Must be the future Jewish Florida Grandma in me. (In my case it will be Hawaii or the Bahamas but I digress.) The dress does some have details to help with fit, such as a dart at the bustline. But there's nothing at the waist. This dress just falls straight and on me that nearly always means muu muu.
So how to rate a dress where you love the pattern but not so much the fit? Meh. Pass.
Wear it with: the Kandalini Sandals ($88), the Scarab Chandeliers ($148), the Grapefruit Shades ($138).
Style #: 27292473; purple motif (059)
★★★☆☆
Anthropologie's getting aggressive with its chemise pricing. Is the Orissa Menagerie Dress ($98) a chemise or a dress? I think you can wear it either way but the material, light weight and stringy belt lead me to classify this as the former. I love the patterns on this cotton frock! Up top you've got elephants and below a pretty pink (aubergine?) floral medallion. The string belt is made from the elephant fabric. It was long enough for me to double loop around my waist — I was imagining the drumroll of a trapeze artist at the circus as I attempted it followed by the victorious blasts of brass when I achieved it! Ta-da and such.
You can size down in this frock safely. I'm in a small here and it was comfortable. The lining is slightly shorter than the dress which annoys. Other than that quibble I was happy in this dress. I see much summer potential here. So many days when I want to be somewhat covered and yet still wearing as little as possible. This would be a fantastic day option. Hopefully the colors don't bleed. $98 seems high to me though so another star off for that.
At $68 this would have come home with me. Instead it's on my wishlist for consideration in my June shopping budget.
Wear it with: the Jarina Tagua Necklace ($68), the Crisscrossed Cork Wedges ($160), the Suede Slouch Hobo ($148).




Style #: 27396605; blue motif (049)
★★★★☆
I wish the Batik Gardenia Dress ($118) came in more patterns. I hope that in fact Anthropologie is at this moment producing three or four more variations of this dress to be revealed not soon enough. Because while I love the style, length and fit I'm not a big fan of the pattern itself. This dress is rayon jersey with no lining. The material is not overly thick but it's significant enough that I'd worry about perspiration on hot days. The sleeves fall nicely from the shoulder and the v-neck is wide yet still bra-concealing. I found this dress fell pleasantly to the knee.
Here's a weird thing for you: this is the first time I've ever seen a dress that is shorter-waisted on the online model than me. If the ruching is really meant to be empire style than sizingwise the small you see on me above is still too big. I'm dubious that I'm meant to be in an extra small, although the top portion of the small did have some floof in back. But on the positive side, what I really like about this dress is that it's cute and summery but alluringly demure. It will need some styling help to punch things up a bit — the cap-toe flats I'm wearing here are not helping the cause. But I can see how this would be a cute date dress. Or if I were a teacher I'd snap this one right up.
More pattern options please Anthropologie? For now, a likely pass.
Wear it with: the Sunken Treasures Necklace ($58), the Korin D'Orsays ($148), the Liliana Woven D'Orsays ($118).
Style #: 28099281; grey (004)
★★★☆☆
Oh Bordeaux, you always have to add that one extra twist to your items. Usually that twist is what I love so much but it's one twist too many with the Embroidered Colorblock Dress ($68). Let me back up a bit. This rayon-spandex jersey dress is a simple heathered jersey on top with a medallion lace shoulder line and a simple gathered skirt below. So far, so good. The skirt is short — nearly mid-thigh on me — and has cascade pleats that cause it to look like ripples emanating towards the side of the dress. Not the best look on a curvy frame but workable.
If that were it for twists we'd be good. But then there's one more. The top has some kind of twisting motion in it, such that at the waist it looks like I've tucked the top in incorrectly. See how it's sort of pulling to the side on me in the photos above? That's how the dress naturally wants to sit. All I want to do is straighten it out!!
I found this dress to run true to size. I tried a medium and it felt easy. But I can't get past how the top sits. I hate it! And I especially hate how it looks like pleated curtains falling from my chest. Blech. This dress isn't exactly bra-friendly either.
A cute idea that would succeed only in driving me nuts. Back to the rack.
Wear it with: the Pastis Bunting Necklace ($28), the Geo-Weave Wedges ($158), the Bowline Belt ($48) in dark grey.
Style #: 27796960; green motif (038) or black motif (009)
★★★☆☆
The Sikuli Diamond Dress ($168) was hiding in the lounge section so I was a little sticker-shocked. But once I recovered from the price I must say this maxi dress is really cute. I need a belt for sure but I like the shape and pattern. This dress is that kind of rough viscose that feels like you forgot to use fabric softener in the wash. Will it pill? Maybe. Will it fade? Seems likely. The pattern placement varies from dress to dress. On the catalogue model in the top of the post it's annoying how the sides are not lined up, so white diamond is lined up next to non-white diamond. But in the store every dress I saw was at least horizontally aligned so that's good.
This dress is really long. Makes me happy as I can actually wear heels with this maxi! There's a petite version too. I tried on a medium and felt it was the perfect size. The v-neck does come down pretty low. While standing you can't see anything but while sitting there's some hint of what lies underneath the dress.
I think this maxi is cute, comfortable and kinda awesome. I just worry that the beautiful pattern and color will fade with washing. Wishlisted, waiting to see how others say this dress holds up.
Wear it with: the Sayre Infiniti Scarf ($48), the Gem Grid Belt ($58), the Valencia Wedges ($138).
Style #: 27258789; purple motif (059) or blue motif (049)
★★★☆☆
Aquarians are known for being absent-minded and I certainly live up to that reputation on occasion. Take for instance the time I tried on the Annas Maxi Dress ($168) and had no clue I was trying it on backwards. Or was I? The tag is attached to the side with the buttons down the bodice. Yet online the model shots show the buttons being in front. So is the model wearing it backwards or am I? I've gone and confused myself something awful. I'll have to head back uptown to see where the truth lies but in the meantime I did want to run this review since the dress is, ahem, "online only."
Update: here's how the dress looks from the front:
This dress is a silk shell with a polyester lining. There are side slits — the pattern tends not to line up at the slits — and as noted there are buttons down the bodice. I found this dress to be disappointingly short, landing a good two or three inches above my ankles. Boo. I like the defined waistband.
I went with a medium in the fitting room and felt that was the right size. So this dress is true to size. It looks a little boring here but there's no denying that in movement it's lovely. Still, I hate how the medallions are so mismatched. Whether this is the back (likely) or the front, I want the pattern to match as much as possible! And the way the big medallion on the bodice is cut off annoys me. Do better Anthro. I know you can.
A pretty color, a pretty pattern, a poor choice on pattern placement. Waiting for sale.
Wear it with: the Pearled Disc Bib ($38), the Banded Halo Sandals ($158), the Tasseled Talka Tote ($88).
I've reviewed a ton of dresses recently! Just click "reviews" in the navbar to see more posts, or click here to get your fill. Another 12 or so more dresses are in my queue plus lots of other Anthro pretties. What do you think of the items in this set?