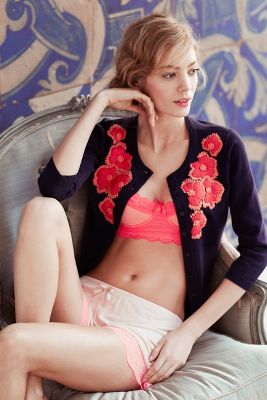 Truth: I chose this photo of the Firebloom Cardigan ($128)
so I wouldn't be the only one baring belly in this post.
Retailers may be trying to sell us on spring and summer but it's so cold all I can think of is sweaters. How do some of Anthro's latest options fare?
Style #: 26913574; mint (102)
★★★★☆
Note: If you're wondering my sizing measurements/height/etc, they're detailed on this page.
Anthropologie's bringing quirky back and I like what I see. The Road Game Cardigan ($98) has polka dots and punch buggies on an aqua base. I'm not a fan of the mustard placket — crisp white would have been my choice. But that's just a tiny quibble on an otherwise cute cardigan.
This cardi is a mostly cotton and cashmere mix, with a little nylon mixed in to make the fibers longer I guess…? The result is a very soft sweater that's warm even though it's thin. It's not too heavy for spring and I think it would be fine in most offices' full-blast winter heat. The sleeves hit at an odd spot on me. Just above my wrists. Not short enough to be considered bracelet; it just seems like I have gorilla arms. The cardigan itself is nice and long, clearing my waist and ending on the high hip of my 5'8″ frame.
A medium felt good. The placket was standing off my body a little, but the overall fit was nice. I like the little crewneck. The buttons are not too hard to undo; sometimes cardigans have buttons that are so sharp they hurt to undo. I found no pilling or shedding on the sweater I tried. Since it's cashmere this sweater will require special care.
Truly delightful, no punchbacks. Wishlisted!
Wear it with: The Lace-Yoke Dress ($138, review) in any color, the Wisteria Collared Dress ($248), over the Daytrip Buttondown ($58) in green motif or pink.
Style #: 26765453; yellow (072) or grey (004)
★★★★☆
The Pointelle Perk Cardigan ($78) is one of those cardigans I keep thinking, oh how pretty! as I walk by it. With a slim cut, a beautiful pointelle design on the front and back and a vibrant yellow hue this cardigan makes me smile. The thread has some variations in it so there are lighter, medium and darker tones of yellow all in the same piece. It's made from cotton and wool. No itch for me but I'm pretty itch-tolerant.
I felt a medium worked best. There is some slight pulling across the chest but I'm sure this cardi will loosen a bit over the course of the day. I love how it hugs the body. The sleeves are the perfect wrist-grazing length. A simple crewneck framed my collarbones nicely. I wish there were more color options for this cardigan! I think the yellow is a winner but I'd love to see it in black, green or purple too.
Vibrant, cute and well-made. Sitting in my cart as we speak. The skirt here is the Lace Fable Pencil Skirt ($148) which I reviewed yesterday.
Wear it with: The Afternoon Safari Pencil Skirt ($118), the Scalloped Stripes Ponte Skirt ($98), the Cherry-Drop Sheath ($148).
Style #: 27062207; navy (041)
★★★☆☆
Flowers, fireblooms or sea anemone? Your choice of what's actually on the Firebloom Cardigan ($128), another one of Tabitha's pretty embellished cardigans. A beautiful pinkish-red set upon navy makes this look and feel like an old-school Anthropologie cardigan. It's nice and long, coming to my mid-hip and has bracelet sleeves.
I guessed wrong on sizing, reaching for a large. I should have stuck with my usual size medium. The pattern on this cardi made my shoulders look somewhat broad. I think I'd fare better with this open rather than closed. Though thin the cardigan is significant cotton. No shedding or pilling on the cardi I tried. I noticed this cardigan is dry clean only, I'm guessing due to the embellishment. That might be a deal-breaker for some.
I like this cardigan but will wait for sale before deciding. For now, back to the rack.
Wear it with: The Paisley Pencil Skirt ($128, review), the Dash Tennis Dress ($198, review), the Flocked Speckle Dress ($188, review).
Style #: 26726265; chartreuse (035)
★★★☆☆
Let's just say I don't advise copying this styling technique in real life. Darling is a juniors' line so their stuff tends to be short as I discovered with the Pan-Pearl Cardi ($148). It's a shame because I've loved many of their dresses and tops only to find the proportions off on my frame. I suppose this cardigan would work fine over a dress. Just be advised that it's quite cropped. And it runs a little small. Shame there's no XL in this.
I adore the beaded collar of this cardi. Those same beads make the buttons and line the "pockets" on the front of this cropped cardigan. The sleeves come almost down to my elbows. I am not a fan of this color. All the choices in the world and Anthropologie goes with pea soup green?
Fitwise, the large was still undersized on me. I couldn't wear many juniors items even in my teens so I'm not shocked this cardigan looks off on me. I have a chest, I have lots of curves, and the cut just isn't right on a womanly body like mine. I'm bummed because the cardigan is adorable! Alas, I'll have to pass.
If you're looking for something like this cardigan, Darling has a similar version with a smaller collar on its website. ASOS is also carrying the smaller-collared version.
Wear it with: The Cilla Tweed Shift ($278), the Colorblock Trapunto Chemise ($68).
Want to see more cardigan reviews? I recently tried on several in this reviews set. Got a request for an item you'd like to see reviewed? Let me know in the comments! If you've tried or own any of these items let us know what you think of them.