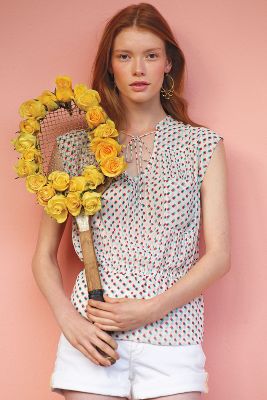 One of my high school senior pictures is disturbingly similar to this.
It's time to take a critical look at some more Anthropologie items. We'll start with tops and wrap with rompers.
Style #: 27585538; red motif (068), black (001), neutral motif (015)
★★☆☆☆
Note: If you're wondering my sizing measurements/height/etc, they're detailed on this page.
I remember that around this time last year I was complaining how Anthropologie's tops seemed to be running small. I'm glad they internalized that and tried to fix the issue but I think they went too far in the other direction. This is the Lace Penumbra Blouse ($78) and it is oversized to say the least. Especially in the sleeves — what on Earth is going on with those lacy sleeves on me? They want to run away with my shoulders.
A coral pinkish (called red motif) polyester bottom is topped by lace made of cotton and nylon. This top looked really cute on the table display and I thought it would be a good summer top with denim shorts. I was warned to size down so I grabbed a small. But when I got to the fitting room I had to double-check to make sure I hadn't grabbed a large by accident — it was slipping off my shoulders and looked more like a nightgown than a top.
A runner grabbed me an x-small which is what you see on me above. The x-small was clearly tight across my hips but was otherwise still very roomy. You'll want to go down at least one size, possibly two if your hips are less prominent than mine. The lace is somewhat itchy and I'm pretty itch tolerant, so for me to feel it means more sensitive folk may want to steer clear.
"Hospital gown," said a friend later when I was editing these photos in our shared office. And from the back it does kind of look like one. A pretty hospital gown to be sure but still a shapeless, butt-flattening thing.
This promising top was a disappointment in real life. It's a pass for me.
Style #: 27282151; blue (040) or four other colors
★★★☆☆
I'm very wary of Anthropologie's tees at the moment as I've had some recent quality disappointments that have me rethinking their production process. My cotton Triad Slice Tank and Expanding Horizons Tank from last summer, for example, have been worn twice and washed twice but are both already fraying around the neckline. The armpits of both my beloved rayon Duo Colorblocked Top ($48, review, OOTD at the bottom of this post) and my rayon Lace Channel Sweatshirt ($78, review) were stained to the point that I had to replace both. For those of you following along, I'm now on my third Lace Channel Sweatshirt. A testament both to how much I like the design and how much of a fool I am.
Cotton has decreased a lot in price since two years ago so my hope is that Anthropologie will use less rayon (or better rayon, or jersey!) and more of the good stuff. Cotton doesn't always breathe as well as polyester but it does tend to last a lot longer. Which brings me to the Lace Yoke Tee ($58). This cute cotton top has lots of pretty details, from a cute scalloped neckline to the lace henley detail to three buttons in the back which help give this top some shape.
It seems to run large. I tried on a medium which felt comfortable but roomy. I'd go down to a small to buy. The top seems to have an a-line shape, flaring out as you travel downwards to the hips. The henley v-neck comes down somewhat low but I think in the correct size nothing you want to hide will be visible. The cap sleeves do stick out a bit on my arms, however I don't mind. I think this top is very cute.
Cotton's built to last but I'm concerned about Anthropologie's knits at the moments. Wishlisted, but waiting for sale.
Style #: 27372739; neutral motif (015)
★★★☆☆
I ask for more shape in a top but then when I get that shape I'm still not happy. This is the Venn Peplum Blouse ($88) which is incredibly cute but runs really short. I have a short torso so this top actually hit me at the waist. That was pretty cool. But the peplum part below wasn't cut with enough room for my hips, so the end effect is weird looking.
Made from polyester, this top is sheer and needs a cami or something underneath. A nude bra might not show through. The neckline is a sloping U with two string ties. Twin breast bockets show what this shirt could look like if it were opaque. The sleeves are boyshirt style and the collar is of the standup variety.
I'm in my usual 6 and as I mentioned the peplum part was kind of close fitting. It's also a little shorter than I need, though if the peplum were longer it would through off the proportions. I'd wear this top with high-waisted shorts to bring everything together. The portion above the waist fit nicely, loose but not overly so. I think I may give this top a shot in an 8 to see if the peplum fits me better without being too roomy up top. I'll update this review once I hunt it down again.
A cute summer option that's going to be far too short on most people. Wishlisted, but waiting for sale.
Style #: 27186295; black motif (009)
★★★☆☆
I have some deja vu with the Scrolling Lace Peplum Blouse ($98). It reminds me of the similar Bloomfall Peplum Tank (now $40, review) and its cousin the Piped Peplum Blouse ($88). But in nearly every case I have the same fit issue. If I get the right size to have the waist hit at my actual waist, the top stands up off my neck. If I size down, the top hits me too high, creating a bulky look. This time around? Better, but still bulky.
This top is lined cotton — a dark black layer underneath with creamy lace on top. The shoulders and waist have piping detail and there is a concealed zipper in the back. Hooray for concealed zips! I can see this top being an excellent work option if only it fit me better. I am in a 6, my usual size. I also tried on an 8 which sat too low and was far too loose around my collarbones. I think the 6 is close but doesn't quite work. Because the waist is higher than I'd like, it makes my chest look too wide and prominent. Also droopy. Not so bad from the side but clearly visible from the front.
Droopy bust isn't something I want, so this top is a pass for me.
Style #: 26533232; light denim (092)
★★★★☆
Lord have mercy, I like a romper. A chambray, long-sleeved romper. My chambray crush is the Holding Horses Chambray Romper ($148). Is it mechanic garb? Totally. Will I feel like a silly hipster in this? Un-ironically. Will I wishlist it? Yup.
The chambray used is nice and soft, so much so that I thought this was Cloth & Stone at first. The top is like a chambray work shirt, down to the rolled sleeves and up to the structured work collar. The bottom is draw-string tied super-soft shorts that are a 5″ inseam. That's the length I typically go for in my vacation shorts, though sadly while long my legs are not exactly my best feature. Not yet anyway, still and probably forever working on them. I'm 5'8″ and the shorts hit above my fingertips.
Still, I am easily tempted by the romper siren song and when I put on my typical size 6 I couldn't help but think…maybe…? It's just so darn cute. And comfortable. I'd wear a cami underneath and leave the top partially open.
So, please help me before I romp again! Talk me out of this delightful but wholly impractical rompy romper. Romp.
Style #: 26734863; blue motif (049)
★★★★☆
The Drafted Petals Romper ($148) is great because it looks like a dress on the hanger and it looks like a dress on the body, so it's only those rare instances when someone notices that slight split that you'll have to admit that yes this is in fact a romper. True story, one time at Club Monaco I tried on a romper with leg openings so wide I thought it was a dress and had both legs through one opening. I was very confused. The store SA explained this to me and then made fun of me as soon as the dressing room door was closed. And I did nearly the same thing here, wondering for far longer than I'd like to admit why in the world there were two openings for this strange dress. Eventually I duh'ed that it's a romper. I am brilliant.
The sweetheart neckline on this romper is adorable but it comes down ever so close to too much. I was just barely OK with the decolletage showing. The length of the romper shorts is good. It hit a few inches above my knee with a 5.5″ inseam. Princess sleeves are not too puffy and hit above the tricep. There's a waist tie in the same bold material. It blends right in. The bodice has ruching across the torso.
I felt comfortable in a 6. The romper has a flattering shape that nips in nicely at the waist without feeling constricting. The leg openings are wide so it's comfortable to walk in. Aside from the almost too-low neckline this romper is a comfy delight! Still I have to choose I think my heart leans more towards the chambray romper than this ultra-feminine concoction. The print is a little bold for me.
A dress that isn't, a romper in disguise. Take your pick. A pass for me but recommended for others!