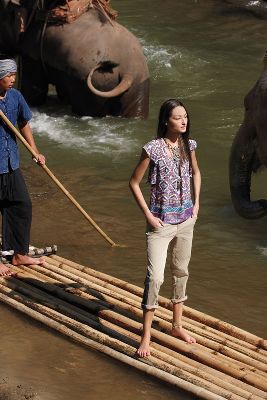 Guess which one I chose to try on?
After a couple of weeks of dresses it's time to turn our reviews attention to a new subject: tops.
Style #: 27224831; yellow (072)
★★★☆☆
Note: If you're wondering my sizing measurements/height/etc, they're detailed on this page.
Pregnant? Looking for Anthropologie clothing that can double as maternity wear? I've got a few options for you in this set. Let's start with the Embroidered Aureolin Tunic ($98), a Moulinette Soeurs top that has me more confused about sizing than ever. Let's talk color first: this peasant blouse is much more vividly yellow in real life than it looks online. I prefer the reality to the filtered online look. Think sunny yellow. I can't help but smile when I look at this top! I know the shape probably reminds you of something you wore as a kid (or maybe something you dress your kid in). I think of hot summer days where I'll want something as cool as possible. This top could very well fit the bill.
Made from viscose and and cotton, this top is airy and a little sheer. It has an open neckline and little lines of pindots trailing up, down and along the hemline. It's decently long, hitting about midhip on my 5'8″ frame. The cap sleeves are just long enough to keep from flying away.
You see me in my usual size 6 in these photos and it's very roomy. I'd size down to at least a 4 and possibly a 2 if the shoulders aren't too small. If I'm in a 2 then you can bet that true size 0s will be swimming in this top and true size 2s will likely find it quite large as well. I had to knock a couple of stars off my rating because of this; either I got a fluke shirt that's way bigger than the size label conveys or this top is hugemongous. (And as one reviewer on Anthro's site adorably notes, you don't want this to be confused with a too short 'moo-moo.' Ha!)
Cute as a button but runs huge. Wishlisted, waiting on the possibility that this hits sale quickly.
Wear it with: Pilcro Stet Colored Denim Roll-Ups ($68) and the Banded Mercury Toeloop Slides ($78).
Style #: 27758036; ivory (011)
★★★☆☆
Maternity option #2 is Lil's beautiful Edelweiss Tulle Tunic ($128), which I could tell ran large before I tried it on. I just had no clue how large. If you're pregnant I'm sure this top is pretty relief but as I'm neither pregnant nor in sniffing distance of becoming pregnant it is with a sigh of disappointment that I write this review. I thought this top would be a lovely replacement for my Floorboards Blouse, one of my oldest Anthropologie tops that no longer fits. I love the combination of lace, muslin and cotton that makes up this top. The shoulder panels are sheer which is a little annoying but I'm willing to look beyond that.
Curiously this top has some fit details, like a gather in back. But it's just plain huge. I sized down to a small for the photos above. I know some tops are meant to be loose but I felt like the fit was too roomy for comfort. So I'd size down to an x-small which once again means true x-smalls are likely out of luck and true smalls may also find themselves feeling sized out. On the other hand this does mean people in the x-large range will be able to give this lovely top a spot in their closets. Is this why Anthropologie is using a hanger for their product shots now?
Another beautiful top that runs big. Size down in this one for sure. Wishlisted in a x-small, waiting for sale.
Wear it with: the Aglitz Brocade Shorts ($118) in pink, the Calvi Lacework Shorts ($88).
Style #: 26493965; blue motif (049), kelly (033), coral (085)
★★★☆☆
A few years back I'd have fallen for the Sheer Flutter Tee ($78) right away, what with its fluttery panels over each shoulder and side. While the model at the top of this post has the benefit of a slimmer shape to help this top fall straight, on a curvy body like mine the top just looks a bit silly. It falls straight from your most protruding part which on me happens to be the bust. The poly top also does that weird thing we busty ladies know about where the top falls between your breasts and creates an odd inner pleat. A cami underneath would be a requirement for me.
The pattern itself is a lovely mosaic, tile-like on top and more layered along the bottom hemline. A square neck helps the shoulders look narrower but in my opinion also widens the hips a bit. The top hit right at my high hip. The sleeves are set upon large armholes and in the back they connect at the nape while an open triangle lies below. One gust of wind may reveal your bra but I don't think it's a huge deal. This top would be a great coverup! It terms of sizing I felt best in my usual size 6. You can size down if your hips are smaller.
Pretty in solid or print but that it requires a cami underneath may be a dealbreaker for me. For now, back to the rack.
Wear this patterned blue motif version with: the Painted Current Shorts ($68) or Chemise ($125), the Braided Twill Trousers ($88) in any color.
Style #: 27182583; navy (041) or purple motif (059)
★★☆☆☆
Tunics are fun except when they don't fit. The Istmo Tunic ($118) seems like older Maeve to me, back when I used to have issues fitting anything from the brand over my hips. The two colors of this top fit a little differently, with the solid navy I tried being slightly more forgiving than the patterned purple motif.
There's so much potential wasted here. The waist-tied tunic is very flattering on larger chests. I don't even mind how low the v-neck comes! I like the ivory band at the hemline and around the henley placket. Two string ties mean you can change this from an open-neck blouse to a tied-neck one. The navy color is jewel-toned and gorgeous.
Sadly, the fit is large on the top half of this top and tight below the waist. I was able to get the 6 over my hips in the navy but was left was a lot of billowing above the waist. The purple version was a lost cause for me — I needed an 8 to get over my hips but that left me overly exposed up top. I'm not sure why the two versions fit differently; perhaps they were made at two different factories? Whatever the reason if you have any curves the navy version will probably work better.
Nice to look at but too tough to wear. Pass.
Wear it with: the AG Stevie Roll-Up Jeans ($162) in white, the Holding Horses Denim Pencil Skirt ($98, review).
Style #: 27196914; pink (066), red (060), white (010)
★★★★☆
It only seems right to end this reviews set on a positive note. Luckily it's Esme & Esyllte to the rescue! This is the Mia Eyelet Buttondown ($78), a sheer but lovely eyelet buttondown in summery hues. The double chest pockets are a nice touch of symmetry and I like the cute pearlized buttons.
I suppose you could say this is a top that you could find at any number of stores but I expect to see this at Anthropologie and they've done a nice job with it. The eyelet is a nicely-scaled crawling vine with tiny flowers and see-through petals. The collar is a cute dress style and in the back there's a pleat below the yoke to help with fit. There's also a dart at the bust.
This pink color isn't very rich; it's more of a muted pink that's almost ivory. I like it! If you prefer bold there's a super-crisp white version or a stirring red to try. Made from cotton, it's airy and machine washable. I found my usual size 6 to fit nicely.
A work-ready top with a cami underneath; an Anthro classic I'm happy to see. Wishlisted!
Wear it with: the Devi Pencil Skirt ($128), the Eero Pencil Skirt ($78), the Rose Point Shorts ($78).
What do you think of the tops in this set? Would you wear either of the first two tops even though they run quite big? What tops have caught your eye? If you own any of these tops how are you styling them?