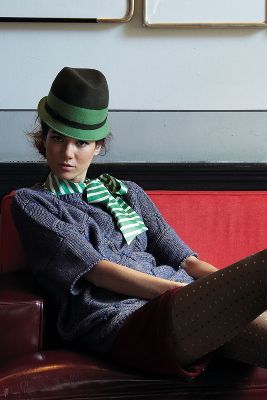 Note from roxy: Most people in the community know my opinion on eBay price gougers. I have generally avoided working with all eBay sellers because I do not want to encourage price gouging in the second-hand market. Stacey and I have been corresponding for a few months now and I feel comfortable sharing her shop with the community. As of this writing the prices in her shop seem fair to me and I love the abundance of older items. However I am not endorsing this shop, I am simply providing a venue for interested parties to learn more about the Little Shop of Anthro.
Hello Everyone! My name is Stacey and I run an eBay store called Little Shop of Anthro. I am thrilled to have been invited here by Roxy to share my treasures with you.
I am a fellow Anthrophile and am especially fascinated with the 'Golden Years' of Anthropologie. I love finding older, rare pieces and presenting them to kindred spirits like yourselves.
Although I just opened my 'store' a few months ago, I have been buying and selling on eBay since 2001. What began as a hopeful search for precious items lost in a house fire, soon became a full-blown passion, and eventually a thriving full-time business.
I offer a variety of Anthropologie items, but really love searching for the divine older pieces that are so coveted, yet so hard to come by. I procure my items by spending countless hours searching at thrift and consignment shops, poking around in my friends' and my own closets, regularly scanning eBay for hidden gems, and frequent visits to my local Anthropologie. I do also have a few other 'distributors', but a girl must keep a few secrets.
When you visit my shop, you will find over 800 listings to choose from, constantly changing, as new surprises pop up and others sell. I have a variety of sources that I use to identify the clothing I offer, but ever since Anthropologie decided (to my and many others' dismay) to remove the archive catalogs (and please know that I had an month-long ongoing email correspondence with a team at the Anthropologie home office pleading for their return, to no avail) I have since purchased as many older catalogs/images as I was able to get my hands on in order to provide the stunning catalog shots that you will find on many of my listings. I am always searching for more and would be interested in purchasing those that the community has to offer.
I have found the EA community to be filled with wonderful people. I have interacted with a few of you over the past month or so and have found everyone to be genuinely good and kind. I would love to offer each of you a discount of 10% off of my regularly priced fixed-price (buy-it-now) store items and an option for an additional discount on sale prices, to be purchased through my Facebook page. If there are any auction items in which you are interested, I can still work with you on Facebook unless a bid has already been placed. Liking my page will also give you a jump on notifications of upcoming sales and eventually previews of new listings, before they are presented on eBay.
I want to thank Roxy for this opportunity to connect with all of you. I am happy to answer any questions and cannot wait to hear from you all!
EA readers are invited to receive 10% off at the Little Shop of Anthro. Visit the shop's eBay store. For any item with no bids, contact Stacey through the shop's Facebook page. She'll end the eBay item and invoice you via Paypal.