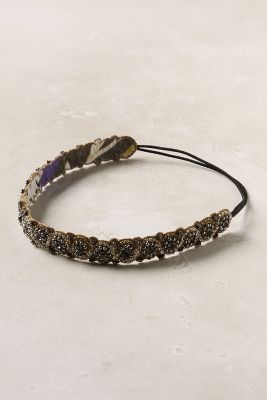 Note from roxy: Reader Outfits will return next week!
Hi there!
My name is Sarah and I am the author of Harpers-Shadow. It's a lifestyle blog focused on beauty, style, traveling, how-to's etc. I have many loves and one of them is the gorgeous accessories section from Anthropologie. You know, the section you always "ooh" and "ahh" over while you're waiting in line to check out 😉
I bought a headband, "Swirled Suns", from Anthropologie last year and fell in love. I've never owned a hair accessory that could be so versatile. If you have been eyeing a gorgeous headband from there or already have one and at a loss for how to style it, check out three simple and easy (my specialty) styles below:
This look was so effortless. Just a simple ponytail and the headband tucked behind my bangs. I used two bobbi pins to secure the back of the headband. I suggest using some in your hair color to blend in seamlessly.
I found a post on another blog recently,
HRH collection
, and discovered through that headbands (and other accessories) pinned or placed onto simple everyday beanies was on the runway during fashion week. This was such a lightbulb moment…why didn't I think of that?! So cute and easy.
I felt like such an old-school flapper with this style. Just curled my hair with hot rollers and placed the headband around the crown of my head. You can really play around with the height of the headband to make it more seventies as well.
While the headband I bought is no longer available, there are tons of other beautiful comparable options available. I listed some of my favorite up above.
Nice to meet you,
Sarah