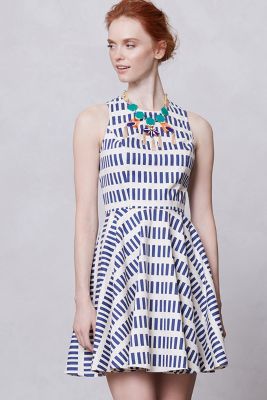 Anthropologie is starting to flood its stores with pretty spring frocks. Dresses are their specialty and I was excited to try some of the latest designs on. How'd I fare? Find out inside.
Style #: 26750646; blue motif (049)
★★★★☆
Note: If you're wondering my sizing measurements/height/etc, they're detailed on this page.
Be still my preppy heart. How lovely is the Dash Tennis Dress ($198)? The simple white and blue gives this dress multi-seasonal possibilities. I love the simple fit-and-flare shape. But my heart dropped upon seeing the label for this dress — I'd similarly loved the Winter Skater Dress (jog your memory here) but busted zippers plagued the earlier versions. Would this dress fall prey to the same fate?
Like last winter's dresses, this Dusen Dusen dress is cotton with a darted bodice and a full, pleated mini skirt. The security sensor was making one side of the skirt fall oddly but I could tell it was beautiful. I would want to settle the pleats some with a steamer so they look closer to the model shot. Up top the fit is much nicer than the winter version. I had more breathing room and the cut in at the arm is deeper for a more flattering look. Less linebacker, more dancer.
I tried on my usual size 6 which fit nicely. The dress isn't lined sadly but it's soft against the skin. The zipper on this dress seems much nicer than the previous dresses from this brand — it certainly zipped up way easier. It's concealed and white which I like. The dress hits a good two or three inches above my knees. It's somewhat of a challenge when sitting. I found it best to let the skirt lay around me like a table topper.
Pretty and preppy with a zipper that passes its initial test. Very likely to come home with me at full price. For now, wishlisted!
Style #: 26789941; navy (041) or black (001)
★★★☆☆
It's becoming difficult to tell what's a dress and what's a chemise at Anthropologie. The Stripewise Chemise ($88) argues for dress. This comfy rayon-poly maxi has an easy top, a straight column skirt and a thick band of ruched material between them at the waistline. A gently curved v-neck isn't so deep as to expose anything. The material is somewhat thin. Not sheer, but you can somewhat see through. I could make out the outline of my black bra underneath.
I tried on my usual medium. I'm not satisfied with the fit around the waist and hips, I think sizing up to a large would be the best solution. The waistband kept sliding up in the medium and wasn't sitting how I expected it to. Plus, the skirt is rather straight and it was hugging my thighs more than I'd like for such an easygoing shape.
This would be a fun dress on those lazy spring weekends. Wishlisted for reconsideration come sale time.
Style No. #27249846, red motif (069)
★★★☆☆
This Bailey 44 dress hasn't hit the website yet (updated 2/21 with product information). It's nice to see them getting away from the column dresses for a change! This pink-on-red frock has a simple tank dress shape with woven overlaid bands at the waistline to create a natural cincher. It's made from Bailey 44's usual rayon-poly-spandex combination and falls to the knees. The tank top has a fairly deep scoop that reveals a peek of decolletage. You put this on via pullover.
I was happy in a medium, with the waist defined nicely and an otherwise easy fit. I am hoping this dress comes out in more color options as this version reads pretty wintery to me. The evenly spaced vertical striped bow in a bit near the waistline and this is somewhat widening across my hips but not enough to be a problem. The dress is lined.
My biggest question with this dress is how long it will retain its shape and color. I miss the days when Bailey 44 used to make its dresses from cotton jersey. Cute, but this dress is likely a pass for me.
Style #: 26518407; blue motif (049)
★★★★☆
Does the Franziska Shirtdress ($98) take its name from the German play? Unsure, but it's cute as a button! A navy blue base is covered with bunnies drawn in pistachio, making a kind of night-vision effect that I love. The shirtdress shape means buttons all the way down the front with a thin but useful sash at the waist. The sides of this dress are higher than either the front or back.
I found my usual size 6 to fit nicely. The sleeves have a tight band, so you may find your upper arms feeling squeezed. The buttons on the dress are tiny. The holes seemed alright but I'd worry about them coming undone easily. Still, I love this dress. It fits like a dream and the pattern is whimsical without seeming juvenile.
A winner for day or night. Wishlisted!!
Style #: 26939934; white (010
★★★☆☆

Seems Ruby Belle has less of a vanity sizing cut than many Anthropologie brands. The Greenwich Pencil Dress ($158) stays close to the body without much give. I love the classic shape and the thick accent bands, though I did not love the translucency of the white material. It's lined and still my undergarments showed through!
Of course the fit isn't helping. My usual size 6 was loose around the neck but far too tight around the hips. I would size up to an 8 and take this to the tailor for help with the top. The polyester material is lightweight and I do worry that the white will attract fuzz and such. Still, the shape is awesome enough that this dress might be worth it.
A tailoring challenge means waiting for sale. For now, wishlisted!!
I'll be back with more dress reviews late this afternoon.