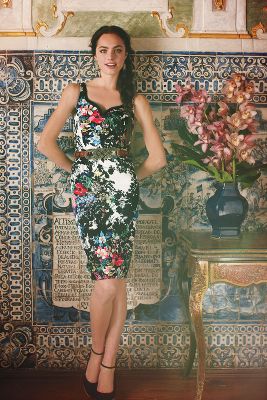 Part II of today's dress reviews may as well be the Leifsdottir/Leifnotes set with one Bordeaux dress thrown in. Will anything win your heart? Check out the dresses after the jump…
Style #: 26266817; grey (004) or black (001)
★★★★☆
Note: If you're wondering my sizing measurements/height/etc, they're detailed on this page.
Bordeaux constantly surprises me. Items that I feel should not work end up looking alright. Case in point? The Accordion Midi Dress ($138). When I saw this dress I felt it would be good for a chuckle and nothing more. Vertical pleats? A see-through shape with non-pairing slip? Drawstring sleeves? A draped top with defined elastic waist? None of these things should work on me and yet this dress was very pleasant on.
This dress is polyester with a poly lining. The slip is sewn in wisely — it is attached at the waist so it can't fall too far. It's very helpful when you're putting the dress on. I find it odd how see-through the outer layer is but the look is interesting. I found the grey version to read almost minty green in-store. The dress hits mid-calf.
A medium fit well. I was expecting that my thighs would end up looking cartoonish. While they're obvious it's all falling in proportion. The waist clearly calls for a belt! I like the wide boat neckline and the Grecian-set sleeves. This is not the kind of dress I ever saw myself wearing but it's very nice!
Cool, unique and well-deployed. An intriguing dress that might come home with me on sale.
Style #: 26879080; navy (041)
★★★☆☆
Soft viscose and a flowy fit make the Cruz Peasant Shift ($188) a great weekend option. I love the embroidery on this dress! There's a front panel with four brass buttons plus different lines and panels at the bottom of the skirt. The sleeves are easy like the overall fit, hitting at bracelet length. The dress has almost no shape to it like most peasants though the pretty design makes up for that to me.
A 6 was swimmingly big on me so down I went to a 4 for these photos. On no planet am I a 4 so it's safe to say that you can size down with this frock. It hits mid-thigh which is shorter than I'd like. I suppose at this time of year tights and boots make the shortness more manageable. The color on the product page is more true than the shots above — my iPhone was having some trouble picking up the colors. I would love to see this dress in green!
A pleasant peasant that has little shape but an easy feel. Not enough to get me to buy at full price though. Wishlisted for reconsideration come sale time!
Style #: 26697516; neutral motif (015)
★★★★☆
I kind of love this kooky dress! The Ivete Patchwork Dress ($158) is part Flower Festival, part Oktoberfest to me. I love the voluminous skirt (helped by a layer of tulle) and the interlaid patterns. The neckline is a little tricky — the edges had curled inwards on the dress I tried. The back is somewhat odd with its rhombus keyhole and an exposed copper zipper.
This dress fit true to size, a 6 for me. It's really easy to get in and out of — no need unbutton the back. Just unzip and with some careful maneuvering you're in. Or out. I like the large black panels around the floral print on the bodice. It made me feel very tiny! The skirt is loud in pattern but fun to wear.
I feel a song coming on. A song about this dress. It feels like a winner! Wishlisted.
Style #: 26668707; black motif (009)
★★★★☆
I love a good modern floral! The Chroma Shadow Sheath ($168) is cool spin on the dresses we saw from the likes of Dolce & Gabbana last spring. The dress is mostly pattern with a blue backing on the bodice. It's a chic touch that makes this dress a little more night out-worthy. The piped sweetheart neckline and pencil skirt shape are set off by a brilliant pop of red, pink, blue, yellow and green flowers. It reminds me of the vector images I used to create and play around with as a graphic design student. I love the colors.
My usual size 6 fit well, although the shape my legs currently sit in made the pencil skirt hug me more than I'd like. In time I'm sure things will smooth out. I love how the waist nips and I don't mind the blue back, I just wish the zipper was more hidden. The cotton material makes this dress hand-washable. The pattern doesn't line up at the seams but it's alright.
A fun frock for going out! Wishlisted.
Style #: 26903054; navy (041)
★★★★☆
I love the vibe of Leifsdottir's Bruna Dress ($298), a maxi with a gorgeous festive pattern and an easy-going feel. The dress has a pineapple plantation pattern and an upside down kite keyhole in back, with a deep neckline that's not overly revealing. I hope to go back to Hawaii later this year and this would be a fun dress to bring! At the bottom generous pleats graze the ground — this dress is very long! Cap sleeves hung off my shoulders a touch.
I found this dress to be surprisingly body-hugging. Though it's silk it does seem to show every lump and bump. I tried on a 6 but would likely invest in an 8 for comfort reasons. But wow is this dress ever beautiful! I really love the pattern. Nicely done, Leifsdottir.
Gorgeous but as always, pricey. Worth waiting on — wishlisted for now!