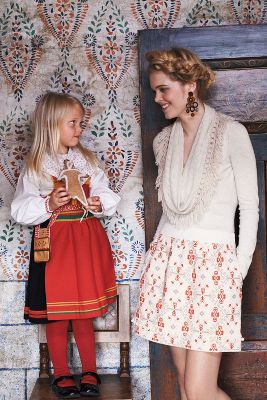 Though sales racks have taken over a large part of the floor space at Anthropologie stores some cute new items are sneaking their way in to the leftover space. January can feel like a dead zone for clothing that isn't resort; luckily it seems that Anthropologie is mixing in some more practical options with their jet-set options. A few new pieces get reviewed within, plus a couple of long-awaited pieces I finally found in-store.
SKU #26559963 for size M, neutral motif (015)
(will update once this top hits the website)
★★★☆☆

Note: If you're wondering my sizing measurements/height/etc, they're detailed on this page.

The Bloomfall Peplum Tank ($78) has already drawn a lot of community attention. If this top were silk I would have sworn it fell right out of Tibi's Spring 2012 line. Instead, it's poly-rayon approximation that has the benefit of subtle stretch and the downside of tricky fit. I really like how long it is and how the peplum begins below the waist. Somehow this top makes even short-waisted me look like I have a real torso! That's impressive. Some have mentioned the armholes being large but I didn't notice that being an issue on the top I tried.
I reached for my usual size medium. The center panel of this top widens in a weird spot, making my bust look droopy. It also pulls away from the body — you can see in the side view above that the front is standing a good inch or two off my clavicle at the top. Why? No idea. It's not too big on me, nor is it too small. It's just being standoffish I guess. I felt the medium was a little loose but not enough to convince me to size down. I can't say that this top would fit better over a smaller bust either. I just think there's something off in the design.
A pretty top but I can't endorse the fit. Back to the rack.
Style #: 26460196; green motif (038)
★★★☆☆
Anthropologie has reined in the flowiness of its peasant blouses much to my delight! I'm infatuated with the colors of the Warbler Post Peasant Blouse ($128). A mix of aqua and turquoise provide the base for a filigree bird pattern with excellent use of colorblocking. A slight gather at the neckline in the front and back help add just a drop of shape before the top falls nearly straight to the hem. Made from silk, the top is light and airy.
It's also totally sheer. There is no layering tank included. I am annoyed by the lack of layering tank! Who would wear this on its own? No one. Which means you're investing at least another $10 to find a tank or something to put underneath. I do like the idea of layering it over a slipdress as happened to me in the fitting room but a removable tank should be included with any sheer top. I'm sick of not getting it from Anthro.
I went for my usual 6. The top was loose in most of my body but tight across the chest. Turns out those gathers in the front and back leave not a lot of room for our chests. This has been an issue for me in nearly every Vanessa Virginia top, so if it's been an issue for you too then you'll hit it again and if you've avoided the issue you'll be fine in your true size. It wasn't so tight that I needed to size up. I mainly noticed it when stretching my arms outward.
As I mentioned yesterday in my wishlist post this top looks great under the Diana Blazer, which gets a full review below. The top is in my cart, ready to come home as part of my birthday haul!
Style #: 26507798; green motif (038) or red motif (069)
★★★★☆
Dolan's Mesilla Peasant Blouse ($128) comes in two completely different patterns. I prefer the aqua mod version (green motif to Anthro) you see above to the red motif cousin. The top is a light polyester with open stitching in a western tuxedo on the front and slightly offset pattern on the yoke. Three silvery buttons are a pretty adornment in the front. This top comes down lower than I expected, showing a hint of decolletage. Since it's sheer you'll want to layer something underneath anyway. The sleeves are very long, hitting below my wrists.
I tried on a medium, my usual size, but felt it was overly large. I would size down to a small to purchase the top. I like the pattern a lot but I don't think I'd wear this top on its own often — too loud for me. As a layering piece however I think it's ideal. It would look great under a blazer or perhaps tucked into a skirt with a cardi over it. Lots of styling possibilities and a fabulous color combination for my skintone and hair color.
Another birthday haul option! In my cart as we speak.
Style #: 26154344; green (030)
★★★★★
Cartonnier made a slightly longer version of its adorable Miette Blazer and the result is the awesome Diana Blazer ($128). Not only is it made in Pantone's color of the Year, it's also gorgeously done. The tencel material feels almost suede-like and the longer length means the framing detail hits right at my waist, creating a long and lean shape. The sleeves are as usual too big on me but I don't mind. The blazer is slightly shorter in the back. There is no closure. And it looks shorter online than it is in real life.
I found my usual size 10 to work best. The shoulders are a little too long, drooping off my body but in the 8 I felt the overall shape was less visually pleasing. So I'll stick with the 10. Green is a versatile color that pairs well with lighter blues, golden yellows and black. Lots of styling options! Plus come St. Patrick's Day you can be fashionable and on-trend. Can't ask for much more than that!
I love this blazer! It's coming home with me very soon.
Style #: 25750514; black motif (009)
★★★★☆
I was hoping the Lace-Framed Cardigan ($128) would hit sale, but aside from being included in last month's sweater promo this piece has stayed at full price. It might just sell out there too with only size small left online. Every time I saw the cardigan in-store only smalls and x-smalls were left. I finally found a store with a medium and rushed to try it on!
The cardigan is a black cotton base with purposely off-spaced buttons. There's a cluster up top and then five more down the front. A ruffly hem and appliqued lace add some visual interest. While I love the lace on the sides and bottom, the lace at the top has the unfortunate effect of making my shoulders look broader than my hips. Not exactly going for the linebacker look, Anthropologie. The material is mostly cotton with viscose and poly mixed in. Though the material is fine-gauge the cotton fibers are really short, so this sweater will fuzz and pill. Why not merino? I am sad.
I often have to size up in Knitted & Knotted cardigans so I was happily surprised that a medium worked here. The sleeves are nice and long and the cardigan hits me low hip, a perfect spot! It's lightweight but warm enough. I felt no itches though I tend to be very itch-tolerant. I think the cardigan will hold up fairly well but it will need grooming to pick off the fuzz.
Undoubtedly cute, underwhelming material. Probably going to buy this one anyway and hope for the best. Wishlisted!
Style #: 25930835; wine (061), ivory (011) or dark yellow (071)
★★★★☆
I tend to avoid cowlnecks. I feel that they can be overwhelming if you already have a large chest. But I must say that the Fringed Cowlneck ($98) looks really good! From the front at least. I love the large fringed neckline of the cowl and the wine color is truly gorgeous, a nice purpley-pinkish-red. The cotton-nylon-poly-wool-cashmere-mygodthat'salotofcrap material is slightly clingy and very smooth. Longer fibers mean this sweater won't pill much if at all. I felt no itch. I like how long the body is and found the cowl to hit at a good spot just below the bust. The sleeves are a little long for my taste but not unworkable.
I tried on a medium, my usual size. It felt very comfortable and I recommend sticking with your true size. The cowl looks kinda large from the side but balanced to me from the front. I like the way it frames the collarbone and neckline. I am surprised by how good this wine color looks with navy and black! I might repeat this outfit in real life.
Pretty and comfortable! Wishlisted, most likely waiting for sale.
I'll have dress reviews tomorrow. If you have a review request let me know in the comments. Do you own any of these items? Have you tried any of them on? What did you think? How would you style these pieces?