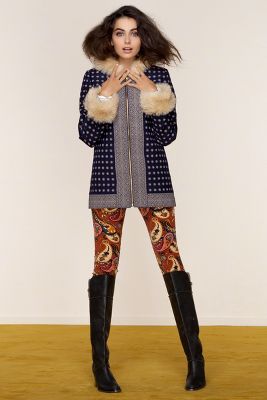 The Skien Coat ($288) gets reviewed, plus three sweaters.
Winter is coming and sweaters have my full attention. Three in this set plus one coat just for kicks.
Style #: 25521592; dark grey (005), green (030) or orange (080)
★★★★☆
Note: If you're wondering my sizing measurements/height/etc, they're detailed on this page.
The Winter Waves Cardigan ($98) wasn't tempting me to much from its online shot. It looks pretty short and I have long given up on cropped cardigans. I was unsure about bulkiness and while I like the design I lacked confidence in it. When I saw the cardi in-store though it was a different story. I noticed the cutely scalloped neckline for the first time. The cardi was much lighter and longer than it looked originally. The acrylic material isn't fantastic but for those with wool allergies there's only a touch in the material.
A medium fit me nicely, skimming my body without hugging too tightly. I've noticed that quite a few of Anthropologie's cardigans feel a little short in the back — when I first put this sweater on it was riding up my back. A good tug got it into place but that's not something I want to do regularly. I was pleased that the cardigan isn't bulky. I only wish Anthropologie would get over its fear of long sleeves. True the shorter sleeve here makes this cardigan easy to layer under. But I like my sweaters to go all the way down to the hands, thanks. This sweater had no itch factor.
Cute pattern and longer than it looks. Wishlisted, waiting for sale.
Style #: 25779018; red motif (069) or orange (089)
★★★★☆
A little shorter on the body, but also pretty flattering is the Marna Fairisle Cardigan ($98). My favorite part of this Anthropologie cardigan is the neckline. Love that minty green! The rest of the red motif version I tried is mainly red, orange and blue. The buttons are somewhat concave in a nice, dark metallic grey. The sleeves ended on my arms right about where the cardi did. It hit me above my hips and nearly right at the waist. Not quite cropped but close to it.
Once again a medium worked well. There was no pulling across the sweater nor at the buttons. This acrylic/nylon/wool/cotton/mohair piece is surprisingly lightweight. I felt no itch though I tend to be very itch-tolerant. To me this sweater looks longer online than it is in real life. I see many styling possibilities here. I love fairisle!
Beautiful colors, on the short side. Waiting for sale.
Style #: 25909763; black motif (009)
★★★★☆
It's rare to see a Leifsdottir item check in under $100 at full price. The Webbed Tales Boatneck ($88) manages that feat but doesn't feel cheap or underdone. This rayon-spandex top has a fuzzy quality to it that leads me to call it a sweater, even if Anthropologie declares it a top. With a slight drop waist and a split peplum, this top really makes you look tiny! It's nice and long too, hitting low-hip. And it has a beautiful boat neckline and slightly puffy sleeves.
I found a medium to be too roomy, so down I went to a small for these photos. The small skimmed against my skin nicely without being overly tight. The pattern on this top seems to be consistent from item to item which quells my fears about wonky pattern placement.
Here's a closer look at the off-center slit:
Thanks to this I'll need to layer beneath the top. Why Anthropologie? Aside from this odd design choice I'm in love with this sweater.
Coming home to me soon. For work, evenings and play. Sitting in my cart as we speak.
Style #: 25571456; blue (040)
★★★★☆
I'm pretty easy to please when it comes to winter coats. All I ask for is windbreaking potential, warm thickness and a cute design. The Skien Coat ($288) answers all three of those criteria nicely. The pattern is somewhat widening in my opinion but in the depths of winter will anyone really care? I love the faux-fur trimmings which some dog is sure to attack at the dog park. I'm also into the long brass front zip.
This coat hits mid-thigh on me and is made from polyester with a polyester lining. The hood is surprisingly small — and I've got a small head so that's saying something. I tried on a medium which was somewhat loose, but I would not size down as I'd layer heavy sweaters under this coat anyway.
Here's how it looks open…
…better than closed to me. Of course open isn't exactly practical outside in the wind. The pricetag seems pretty high to me.
Cute coat, too expensive at full price. Wishlisted for reconsideration come sale time.