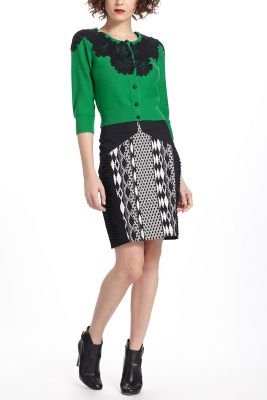 After a few seasons of really mini miniskirts and calf-grazing tablecloths I'm somewhat over skirts. And so of course now Anthropologie is releasing tons of cute options and dragging me right back into the knee-baring love. Let's see how a few of the newest options fared under the review microscope.
Style #: 25897018; black motif (009)
★★★★☆
Note: If you're wondering my sizing measurements/height/etc, they're detailed on this page.
Floreat's Pintucked Arpeggio Skirt ($98) is a cotton-spandex pencil skirt with plenty of figure-flattering details. Differing degrees of diamonds run vertically down both the back and the front. A black base is pleated along the sides and ovelays the pattern in both the front and the rear to hug curves or create them where one may have few. The skirt hugs the body but isn't overly tight. A feminine, curvy silhouette is the result and I love it! The skirt is sadly unlined and somewhat slippery against the skin. On the not so good side, I would worry about this riding up as pencil skirts are wont to do. An exposed brass zipper in the back cheapens the elegance here. And there's no back vent.
I found this skirt to run large. I felt much better in an 8 than I did my usual 10. I suppose the side view above could be arguing against the case for an 8, but in the 10 the waist was sitting away from my body and it wasn't even hugging my thighs. The skirt hits above the knee and thanks to the spandex is elastic enough to stretch around curvy hips and thighs like mine.
I felt really good in this skirt!! I only wish it were two inches longer to hit across my knees. Probably not a full-priced purchase as my closet is stuffed with skirts, but wishlisted for reconsideration at sale time!
Style #: 26023382; grey motif (008)
★★★☆☆
If you have a teeny-tiny waist you will love the Wood Grain Pencil Skirt ($88). And if your hips are larger in proportion like mine you'll like it too. But if your shape is straighter this skirt is going to present issues. The waist portion is very tiny compared to the rest of the skirt. It's almost like Anthropologie heard my whining about loose waists on pencil skirts and said, "Here you go! Now shut up." Problem is, while the waist is great the rest of the skirt gave me fits. I think the issue lies in the pattern. A zebra-like woodgrain is laid in chevron stripes that emphasize thighs and make mine look even more thunderous than they are. This skirt is lined but like the Arpeggio above it has no back vent.
In my usual size 10 I found the waist fine but the thighs a little loose. It created odd folds and seams around the edges that were not very flattering. The cotton-poly-spandex material feels slippery and is challenging to settle on the body. I do like that the skirt hits right above the knee and how the pattern lines up from skirt to waistband. Not so much at the side seams, but it's forgivable given the challenging pattern.
Something about this skirt just doesn't sit right. Back to the rack.
Style #: 26069773; brown (020)
★★★☆☆
How about some holiday festive feelings in a work-appropriate way? Leifsdottir's Brocade Shimmer Skirt ($148) caught my attention with it's bronze-red-brown subtle glamour. In real life this skirt is much less crinkly than it looks online though it did dip and contort in some odd ways on my body. Mostly I didn't like the way there seemed to be a bowl around my pelvis. With some shifting I was able to make it go away, but the fussiness bothers me.
This skirt has an a-line shape that's comfortable to wear. I found my usual size 10 felt good on, hitting a couple of inches above the knee. I like the darts on the front and back, less so the exposed zipper in the back. The material is stiffer cotton, poly and acetate and this skirt is lined. It's mostly the color I love!
Pretty color, tricky fit. A possibility on sale, wishlisted for now!
Style #: 26281287; pink (066) or black (001)
It is pink or is it beige? Who cares! It's cute. I love Deletta's Josephine Smocked Top ($48). Not only does it have that classic Anthropologie feeling, it's so flattering on! I love the v-neck and faux wrap, with its tucks and pleats and bobs. It does come low enough that you'll likely need to layer your own cami as I have here. I wish the neckline were higher but I won't complain too loudly. The cotton material is light but not too sheer. The length is good, coming down to low hip.
A medium worked nicely on me. The sleeves are about bracelet length (I've got them pushed up in the photos above). The neutral color will pair well with many other shades and it has a feeling that's equally winter, spring or summer. Priced almost unbelievably low by Anthro standards, I was tempted to pick this top up immediately.
A real winner, and exactly the kind of top I hope to find at Anthropologie!! Wishlisted.