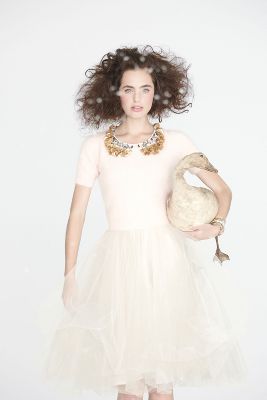 NOTE: Free Shipping ends tonight!
This morning we focused on the bottom half with skirt reviews. Now let's turn our attention to the top half with sweaters and sweater jackets.
STYLE # 26009175; black motif (009)
★★★★☆
Note: If you're wondering my sizing measurements/height/etc, they're detailed on this page.
Vroom. Get your winterness in gear with the Snoa Motocardi ($158) which is probably the softest moto jacket you'll ever come across. A diamond pattern runs all over this wool-cotton mix with black accents on every hem as well as the pockets. The large, folded over collar makes this sweater jacket both warm and fashionable. Like every moto jacket there's an offcenter front zipper.
My usual size medium was so comfortable that I was tempted to just keep it on, buy it and motor out of the store in it. The sweater hugs the body nicely to create a flattering shape but doesn't show lumps or bumps. The sleeves are nice and long. My only quibble is a silly one — it's shorter than I'd like. Moto jackets are of course made to cropped so this is expected. Still, another two inches of length would be welcomed.
Here's how the jacket looks open:
Cute but with much less impact than closed. The top underneath is Deletta's Puckered Placket Turtleneck ($58) which will get the full review treatment next week.
This cardigan is a hip winner. In my cart as we speak!
STYLE # 25912650; grey motif (008)
★★★☆☆
I have a weakness for faux fur collars. The Downy Collar Cardigan ($148) is a great mix of faux ful and textured knit. If you've looked at the product page you already know my main complaint — ACRYLIC. My sworn enemy. There is wool in here but this cardigan looks acrylic to me. The knit has a weird sheen to it that's somewhere between metallic and plastic. A simple hook-and-eye closure in the middle keeps this cardigan done up, although it also looks nice open.
This cardigan runs quite small. A medium wasn't doable over my chest so you see a large on me above. This worked although I'd also love to try a x-large for comparison. The sleeves are very long, coming down to mid-hand. I like this length a lot! The material is not itchy but it is rough.
I would be thrilled to wear this cardigan over my holiday party dresses. It sits at the top of my wishlist!
Style #: 25986779; light grey (006) or dark grey (005)
★★★☆☆
I've searched high and low on Anthropologie's website and as far as I can tell this Meadow Rue sweater-top-lounge item hasn't made it online yet. (Nor is it on the EU site as of this writing.) Update 12/2: it's online now as the Galaxy Skies Sweatshirt ($68). I'm honestly not sure if it's a top or a sweater but I'm considering it the latter. Once it appears I will be sure to update the name and details. For now let's just call this the shiny chestplate sweater. This top has a rayon-poly base that's pretty thin and a nubby acrylic tweed in the front. I love the folded shoulder details, which almost make me look like a little heart. I wear my heart on my sleeves — literally!
The top is pretty long, hitting low hip. A nice scoopneck frames collarbones well. The elbow-length sleeves mean layering under this is a cinch but leave some warmth to be desired when it's on its own. I was comfortable in my usual size medium. The tweed isn't heavy or itchy and this top has just a touch of stretch to it. I wish the poly base were thicker and that this top had long sleeves instead of mid-sleeves. Still I can't deny that it's cute.
Cute but made from less-than-desirable materials. Will be wishlisted for reconsideration at sale time.
STYLE # 25984071; rose (065)
★★★★☆
Why buy a separate feather collar when you can have everything as one piece? That seems to be the thought behind Corey Lynn Calter's pretty Peter-Pan Paillettes Sweater ($168). The brown paillettes look like feathers from a distance while sequins and gems line the collar. I think this top is so pretty and as a bonus it's incredibly soft angora. But be warned that if angora makes you itch this sweater will bother you. The sweater has short sleeves that hit a couple of inches above the elbow and the main body hits low hip.
This sweater looked like it would run small so I tried on a large for these photos. I should have stuck with my usual size medium. There's a seam in the back; I can't tell if it's functional or not for buttons but it does seem to help the shape. I love the idea of wearing this over cigarette jeans a la Audrey Hepburn, or perhaps with a longer skirt.
Styling ideas are running through my head! For now, this sweater is wishlisted.
STYLE # 25885278; grey motif (008) or red motif (069)
★★★☆☆
Looking for a cute casual winter hoodie? I recommend the Fairisle Hooded Sweater ($128)! Or at least I would if it weren't acrylic. GAH! Again with this crap material. A vaguely tribal pattern runs across this sweater while amazing fringe on the hood means that when you're hood up you'll also have a fringe mohawk. How awesome is that?!? The jacket is a little short, hitting at high hip. I would have liked it to be a little longer.
I tried on the grey motif, which looks blue to me. (The blue motif certainly has plenty of blue upon a brown and red base.) A medium fit perfectly. The material isn't soft but it is plenty thick and doesn't itch. I forsee getting a ton of use out of this jacket on snowboarding trips. It was tempting to buy this sweater on sight but I want to see how it does sales-wise. Maybe it will hit sale quickly.
Easy to wear and fun too. Would get a higher score if it was made from wool. Wishlisted!!
STYLE # 26070631; red (060), beige (024), turquoise (046) or dark yellow (071)
★★★★☆
The boning and shape of the dress underneath is poking through a bit so you'll have to trust me when I say that despite its bulk the Hamilton Cottage Sweater ($88) is a sleek top layer. I love the cable pattern, which breaks from boring vertical cables in favor of round and oval shapes. (I'm no knitting expert so if these are called something else please let me know!) This sweater is so nice and thick, and warm without being overheating. The sleeves are a little too long — they go past my hand! I am holding them up a bit in these shots. The sweater itself went just past my hips.
My usual medium was a great fit. This sweater wants to hug your shape to keep you warm. Cables can be hard to reconcile with a larger chest but the pattern here works well. The ovals help to streamline everything and keep the shape from being stretched over the chest. I love this muted tomato red! The dress underneath is the Paprika Brocade Dress ($158) which I'll review tomorrow.
Do you own any of these sweaters? If so what are you wearing them with? If you have a review request let me know in the comments! Tomorrow I'll have two dress reviews sets and next week we'll turn to tops. Be sure to stop by EA later tonight for an independent artist giveaway!!