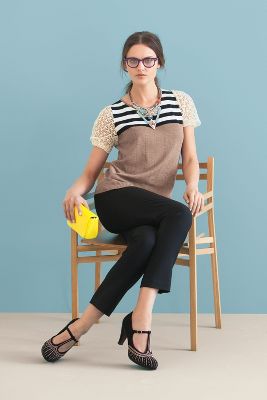 Two sale sweaters and one very popular new one get the review treatment. Plus, some musings on why it's foolish to buy upcharged resell items on eBay.
Style #: 25266461; blue motif (049) or grey motif (008)
★★★★☆
Note: If you're wondering my sizing measurements/height/etc, they're detailed on this page.
Lace, lace everywhere. Over here, over there. Leaving our shoulders quite bare. The Lace & Lines Pullover (now $40) came out over the summer and whispered promises of fall outfits. I feel terrible about forgetting this review until now but as soon as I dug out the photo I remembered why — although beautiful this top is somewhat ridiculous, isn't it? Anything you wear underneath clearly shows through. It's half-knit and half delicate lace like some Frankenstein of the latest trends.
And yet, of course I love it. The blue version spoke to me a but more than the orange-topped grey motif version. I love the below-the-elbow sleeves and the thicker stripes of this top. This top has very little stretch so if you're between sizes go up. I found my usual medium worked fine though some have reported feeling this is tight through the shoulders.
I see it mostly as a layering piece. Under a blazer or a cardigan this will be beautiful! I would worry a lot about the lace tearing. It's very fragile. So if you do buy this top be prepared to give it some tender care. It will need it to stay intact. Although I love it I have so many lace tops already. And so many striped tops. Back to the rack.
Style #: 25499104; neutral motif (015)
★★★★☆
The mixed materials of Corey Lynn Calter's Striped Galao Pullover (now $70) make a little more sense to me. This sweater top is mostly textured brown knit, with a quick dash of stripes up top and a thick lace puffy sleeve. I firstly noticed how soft this top is. The pointelle section in particular is delightfully fun to touch.
Once again my usual size medium worked well. If you have a larger chest you may need to size up, as the knit and stripes will pull. I could not get the sleeves to lay flat as they do in the model shot no matter how much I tugged. It's puffy or nothing I guess. I like how it hits on my low hip. It's also very straight which left the midsection rather wrinkly against my curves. Not a dealbreaker but somewhat annoying. Shaping darts would have been wonderful.
This would be a good work top, easy to pair with a pencil skirt or trousers. I already own a very similar Corey Lynn Calter top so I'll likely pass on this one but I do like it quite a bit.
Style #: 25913831; blue motif (049)
★★★★☆
Although I'm not one for sweatercoats, I see why the Morning Birds Sweatercoat ($198) has so many fans in the community. Essentially a remake of the Dressage Sweatercoat, this lambswool jacket is soft, long and decently warm. The mix of avian silhouettes are a cool effect. I love how the birds seemed to be symmetrically flying to or away from the center on the coat I tried! The coat comes complete with a sizable hood…perfect for re-enacting your favorite vigilante hero movie scene, Anthrostyle.
The lambswool is fairly soft and very thick. The coat didn't make me itch and pilling is unlikely. On my 5'8″ frame a medium fit fine. It was a bit large but in the small the sleeves were a drop too short for my liking. So stick with your true size. The belt around the middle helps to create a shape…sort of. It's hard to avoid the bulky feeling.
I much preferred the coat open…
…which is of course much less practical. (If my outfit here looks familiar it's because it's my latest OOTD post!) I own two Anthropologie sweatercoats: the Rutledge Sweatercoat which I just adore and wear out and about to do errands and the Fisherman's Companion Sweatercoat which is strictly a house coat for me. I could see using this coat as a topper up on Cape Cod. But it seems silly to spend $198 on a coat just for certain vacation situations.
On sale I'd consider this one but it's a pass for me at full price. Of course, this coat won't make it to sale.
Why not? Well because according to several community reports as well as word from a local SA, buyers have been calling up Anthropologie stores and doing charge/sends for stores' entire stock of this coat. Buying 10 or 12 at a time. Every size. And what do they do with those coats? My guess is we'll soon see a bunch of these on eBay for higher than retail price.
eBay's not the only place though. A community member brought my attention to a Chinese auction site, where two women apparently have more than 100 of this coat for sale at $275, almost a 40% markup. The seller apparently went around to all the local Anthro stores and just bought every coat that was available — just look at this photo!
Is this illegal? Nope. Is it good business for the seller? Absolutely, if the coats sell they profit and if not they just return them. But is it also dumb? Fuck yes it is. It's just a coat. It's a pretty coat and a popular one. And true that you can't buy this from Anthropologie if you live in China. But still, it saddens me to see someone profiting off of price gouging.
There have been items I've missed out on and times I've been very tempted to pay above retail price. The closest I ever came was for a Floe & Current coat which I somehow snagged for right at retail price on eBay. And that coat ended up not fitting me! No matter how pretty today's hot item is there will be something just as nice or nicer in the future. It's not worth blowing $300 or $500 or more. Even with designer items I'm often tempted to drop coin at full price…but then if the item gets massively discounted later I feel so dumb to have paid full price. And few clothing/accessory items hold their value on the resell market.
I NO LONGER OWN THE FLOE AND CURRENT COAT. PLEASE DO NOT CONTACT ME ABOUT SELLING IT, I NO LONGER HAVE IT. THANKS!
Anthropologie could stop this easily — just put a limit on the number of a single item you can buy at 2 or 3. Yes there are still ways around this but make it harder for gouging resellers to get these items. And it's also up to the community to not make this a profitable or lucrative enterprise. By buying something for above retail price we're only encouraging it to go further in my opinion. Hell, oftentimes the retail price is already too high!
So I'm begging the community, if this coat begins to show up on eBay for more than retail, don't buy it. I think many of us remember the craziness of 2010/2011 when there were 20 or so more Anthropologie blogs than there are now and how the hype cycle of us loving certain items created a cottage price gouging market. People were paying double, triple, and sometimes even higher exponentials of retail price. And for what? The right to say you own the cool item? The temporary glee of having beat someone else out for the coat? I really don't understand it.
How do you feel about the reseller items? Are you OK with paying above retail price for an item you really want? I'm curious to hear what the community thinks.
I'll be back tomorrow with a full-sized dress reviews set.