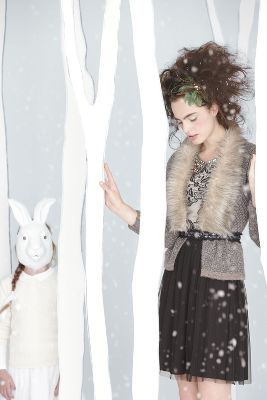 Anthropologie's dress collection has taken a turn for the festive! It makes them very fun to try on but less than practical. Nary a work dress in sight. It takes some extra time to put these dresses on as they're loaded up with delicate trims and details. Is it worth it? Of course! I only wish I lived the lifestyle where some of these dresses would make sense in daily life.

Before the reviews, a quick detour. Last night Anthropologie hosted a blogger party in their NYC showroom. Normally this is the part where I talk about how excited I am to share photos and details…except this time around EA didn't make the cut. Like some high school rumormill I found out about the party while checking my Instagram feed last night.
Anthropologie's certainly under no obligation to invite me to all of their events and I have had the privilege of attending some of their exclusive parties recently for which I am very grateful. But I'm majorly bummed that at a time when more brands are reaching out to me to get involved with this community, the one brand I care about the most excluded EA from a blogger-targeting event.
Style #: 26001214; gold (070)
★★★★★
Note: If you're wondering my sizing measurements/height/etc, they're detailed on this page.
You're sure to compete with the tinsel for attention in the Goldleaf Cocktail Dress ($258)! This mesh-based dress is covered in leaf-shaped sequin vines overlapping and twisting about in every which direction. A generous v-neck and knee length make this dress party-appropriate yet not too revealing, a combination which is probably smart given the beguiling glint of the frock. Along the v-neck is a vertically-placed line of sequin leaves which frames collarbones nicely. Lord knows I love me some sequins so this dress was coming to the fitting room for sure.
I found my usual size 6 to fit perfectly. A horizontal band defines the waist well and the dress has fit-and-flare properties without making the skirt too voluminous. The sequins continue all over both the front and the back and though they are themselves rough to the touch I didn't feel any cutting into me as I tried the dress on. A full lining lies under the mesh and there is a side zip. I found this dress so stretchy that I was able to simply pull it over my head.
My biggest question was: would this dress hurt when you sat down? Luckily it did not. You can certainly feel sequins against your back and tush but not painfully so. Relief! I'm in love with this frock. I have no idea where I would wear it but I'm tempted to make it work in December by only showing half at a time — wearing a neutral sweater over it and transforming the dress into a skirt one time; wearing a skirt over it and making it a top another time. I would love to see this dress in the same plummy purple hue as the Embroidered Lace Pencil Skirt ($128, review).
For now, wishlisted!
★★★★☆
From the online shots I was sure the Flocked Sable Dress ($168) would be a Knitted & Knotted item but it's actually by Weston Wear. Our West Coast friends certainly like this tulle and mesh skirt style with the unfinished waistline — we've seen it recently on the Vinca Minor Dress (reviewed) to name one. This time around the skirt stays simple black while the top has a lace-embroidered pattern. I like the way that the pattern is always the same no matter what size or dress you pick up; it saves the trouble of having to hunt down a flattering pattern placement. The top portion is an acrylic/nylon/wool mixture. I didn't find it to feel itchy. It's actually very soft.
This dress has several nice design touches. Firstly, the dress has a built-in slip. This makes it a pain to put on but well worth the trouble. Secondly, the back of the dress has a cute polka dot design above the bra line. You'll look cute coming or going! The knee length is perfect and I like the thicker tank-style bodice straps.
My usual size medium was a great fit. Sometimes Weston Wear dresses lack the necessary bodice space for my chest. This dress was fine — the waist still hit where it was supposed to. I like how Anthropologie styled this dress in the outfit at the top of this post. A furry cardigan looks great with this dress. I'm not really a fan of these meshy tulle skirts but it works well here.
A more subtle party dress that you can accessorize up or down. As I've no occasion to wear it I'll be passing, but highly recommended!
Style #: 26105171; blue motif (049)
★★☆☆☆
Which dress from the November 2012 Anthropologie catalogue had me the most excited? The Paillette Flutter Mini Dress ($278). Which dress did not live up in real life? This one. It's a tale of two halves — an intricate, stunning, eye-catching top (well, the front anyway) and an inexplicably low-quality skirt. You know the sound track pants make when your legs graze each other? That almost plastic-y whoosh? Well the skirt of this dress looks like a garbage bag, feels like a tarp and makes that same damn sound. I'm mystified. Why not a jersey skirt if they wanted to keep it simple?
The paillettes are incredible. I love the mix of turquoise and bronze. It almost looks like a chestplate of feathers from far away and up close it's a delight. I wouldn't be hard to win over — I love the top part so! But the back has no paillettes; instead it's poly-based jersey. Go figure. The high neckline is a little tough for a larger chest but I feel like I could make it work.
Sizing-wise I found myself going up to an 8. The 6 was uncomfortably tight around my bust. The skirt portion falls just above the knee which is a good party length. You're sure to impress with the top of this dress but I have no idea what's going on with the skirt. A pass for me.
Style #: 25923905; green (030)
★★★☆☆
I mostly think of Tiny churning out delightful tops and soft cardigans but every once in awhile they create a dress. Their latest effort is the Caridad Ruffled Dress ($198), a perfectly green frock with a longer tea length. I have no idea why this dress looks knee-length in the product and model shots. I didn't find that to be my experience at all! The bodice portion of this dress has a strapless-style top with a thin mesh overlay. I suppose that's one way to make a strapless dress seem less so. The opaque part doesn't come up as high as I'd like though, exposing a couple of inches of decolletage. The back has a pretty keyhole closure. The sash is a beautiful complimentary steely grey-blue but it's so thin and insignificant that's more a suggestion than a functional tie. Down at the bottom of the skirt leaves grow waistward.
Tiny dresses tend to run…well, tiny. A 6 was a tight zip over my ribcage as you can see in the photos above. An 8 would be more appropriate. The top portion of this dress skims the body nicely and the skirt, while plentiful, isn't overly so. I wish this dress was closer to the knee-length of the model shot online. It's a little longer in real life than I'd like.
Adorable with some design quibbles. Back to the rack for me.
Style #: 25877408; blue (040)
★★★★★
Although I'm sure it's not the case, it's as though a shrewd Anthropologie designer read my all of my dress complaints and addressed them in the gorgeous Silverfield Sweetheart Dress ($138). Strapless sweetheart dresses tough with a bigger bust? Make it a tank instead. Open backs equally challenging for someone who prefers a supportive bra? Make the open back high so a bra can still hide, with a cute neck button detail to boot. Shifts and sheaths got you down? Here's a fit-and-flare for you. Thank you Anthro!
Yes lace dresses have passed the point of even ubiquity. But how awesome is a grey-blue lace dress? You could wear this in any season! I immediately thought date dress.
I tried on both a small (not shown) and a medium. My usual medium was a better fit, although I have two knocks. The chest area of the medium was a little loose — in the side view above you can see the bodice standing off my chest a bit. And you can also see the other issue — skirt pouf in the back. The small was actually worse for pouf and I felt the bodice was straining too much. So I feel this dress is true to size, at least for me anyway. Another thing to note is that the small hit me above the knee at about the same point where it hits the model online. The medium managed to graze the top of my knees which I much prefer.
This dress became my first full-price Anthropologie purchase in awhile. I like it so much I felt it was worth it and I'll wear it right away.
Style #: 25802323; green motif (038)
★★★☆☆
I love green so and yet neither green dress in this set worked well for me. Here we have Sariah's Kallos Buds Silk Dress ($188). I've had great luck with the brand's last two shifts — the Palma Dress (reviewed) lives in my closet and its many cousins all worked well. This dress is a cheap-feeling silk with pleats down the middle front. The silk feels really thick and slippery with lots of loose fibers. I don't like it; it almost felt oily. The back has the same button detail we've come to know on Sariah's dresses.
This would be a great work dress if only it fit. I tried on an 8 but should have stuck with my usual 6. The 8 was loose pretty much all over. Most disappointing is how the fabric droops in the chest, creating an unwanted dip between my bust. It's fixable with a seamless cami underneath but the overall fit of the dress didn't impress me enough to justify it. I like the knee length. The skirt pleats create some pouf, especially in the front.
A pretty pattern but poor execution. Pass.