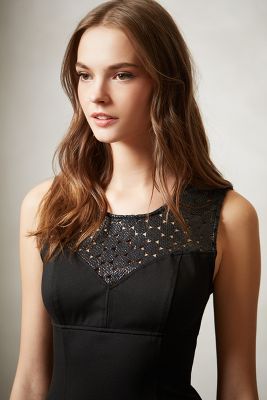 It's the most wonderful time of the year — birthday time!! Some community members have pinged me via email to see what I used my Anthro birthday discount towards, so this post is all about what I got, what I thought about, and what I missed out on. Some items like the Hearth Hoodie (now $90, review upcoming) are now in my closet but without that 15% off because of timing and you know some of the pieces of the haul already like the Intermede Dress (now $140, review).
My birthday wishlist looked something like this: a date night dress (the Intermede), an all-purpose dress, a trendy work dress, and one fun day dress. I knew Anthropologie would be able to satisfy all those desires. Admittedly I went a little overboard and bought more than I'd planned to. But I feel like your birthday is one of the few times when it's OK to do that.
The all-purpose dress ended up being the Passerine Sheath ($138, review), and the Emerald City Sheath ($298, review upcoming) got the nod as my trendy work dress. With New York Fashion Week starting on February 6 I thought the latter dress would be great for a couple of the designer presentations I'm attending. The not-yet-online Polka Dot Aria Dress ($178) was my choice for the day dress. Update 2/4/2014: this is now online and called the Nikola Dress. Right now I'll wear it with a cardigan on top — the J.Crew Traversa Cardigan in grey from several years ago — until the weather is warm enough to go without the extra layers.
While in-store I found myself too tempted by the Edisto Column Dress ($128, review) to let it pass me by as well as the Crocheted Heirloom Pullover ($88, review upcoming) which has curiously poor reviews online. I found it both slimming and flattering…and I'm wearing it right now!
There were a few items I was interested in trying before buying. I couldn't find any of these items above in my size so none came home with me. I suppose I can wait on the Meeting Point Dress ($168) since it's such a springy item. I have eyes on the Minuet Dress ($228) for Valentine's Day…based on the reviews I think I'll need a size 8 instead of a 6, but I'd like to have both to try on to be sure. I did get to try the Pravara Dress ($248) on, but it was a petite size, and I'd like to know about the regular version. I think the Pravara would be an awesome NYFW dress for a Tribeca presentation I'll be at…
The Ayaka Embroidered Skirt ($148) is apparently in stores, just not any Anthropologie near me. Given that there are 5 NYC Anthros that's surprising! The Pleated Silk Midi Top ($118) might really be online only; likewise the very cool-looking Gold-Dipped Playing Cards ($18).
And of course my list doesn't even take into account all the fabulous shoes Anthro has right now! I tend to make fun of their shoe assortment for going off the deep end at times, but right now it is awesome, awesome, awesome.
I have no room for any of these shoes. I want them all anyway.
The Vidigal Heels ($148) seem a fantastic way to dress up a basic look. I like both colors very much! Bronze is one of my favorite shoe colors so it's no wonder I like the Leonie D'Orsays ($79). Both the Delman T-Straps ($148) and the Torre T-Straps ($148) have a throwback vibe I like a lot, as do the polka dot Betty Pumps ($148).
I missed out on both the Lovins Wedges ($138) in the shade shown above and the Iona Mary-Janes ($398), the latter of which would look so good with my Grasby Gardens Dress. Though perhaps it's for the best, I really do not have even a single slot available in my closet shoe rack. (And don't ask me how many slots I have. It's a very high number, haha.)
Speaking of items I missed, the Mercurial Necklace ($198) which must have been online for about three seconds before selling out. Elsewhere in jewelry I'm enamored with the Woodcutter Necklace ($298) which I really need to see in real life before making any purchasing decisions on.
Still, there's no complaining about coming home with four fabulous dresses and a nice new sweater. January birthdays, what did you get with your Anthro birthday discount? (If anything.) What about other recent birthdays? February ladies, what are you eyeing with your 15% off? Need more information about the anthro member birthday discount? Check out my FAQ here.