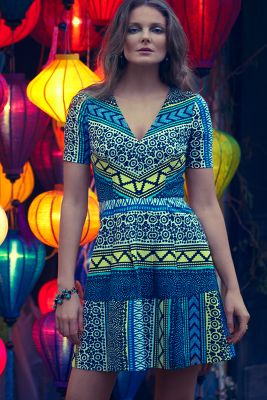 Looks textured, actually just a cool flat print.
Reviews of the New Moon Dress ($178) and more inside.
What season isn't dress season at Anthropologie? Inside, my thoughts on 5 frocks from the current assortment.
Style #: 28775658; black (001)
★★★★☆
Note: For sizing reference I am 34-29-38, a size 6/M in dresses. I'm 5'8″.
My hunt for a new little black dress ended with Plenty's Intermede Dress (now $140). This online-only dress has some excellent fit details and plenty of versatility, even if it did come out of the packaging wrinkly. It has seaming over the bust anddown the front, plus gentle pleats in the skirt. The circular accents around the neckline are covered with iridescent oval panels that look like snakeskin up close but are not. The material is a very slippery rayon mix that reminds me of a swimsuit. It's slippery yes. It's also smell-repellent which is key when you plan to wear a dress all night long and into the wee hours. There's a concealed back zip.
I found my usual size 6 to fit perfectly. There was enough room in the bust (barely) and though the neckline was somewhat loose I prefer that to it being too tight. The dress skimmed my body nicely through the bodice before giving way gently in the skirt. A few quibbles with Anthropologie's product description: the dress is not lined despite the online claims and I think it's shorter than the online description states, more like 35″ than 36.5″. The armholes are sorta big too and may show a bra. The neckline however does a nice job of concealing undergarments even though it's sheer in parts.
I was delighted that my birthday discount gamble worked out! This is a date night dress I'm sure to get plenty of use out of!
Style #: 4130204586767; blue motif (049)
★★★★☆
Have my arms grown in thickness? This is the question I'm left with after trying on the New Moon Dress ($178), which fit well everywhere but was tight on me over the arms. It's the second time in a week I've experienced this at Anthropologie. I guess I need to change my arm workouts or something.
The dress looks textured but it's actually a flat print on cotton spandex. A center panel is slightly offset from the rest of the dress. It's got a beautiful defined waist and hits about an inch above the knee. The v-neckline is deep yet not overly so. The sleeves are a very awkward length, cutting right across the bust. Blargh. There's a back zip that will require some contortion to zip solo.
I'm in my usual size 6 here. It fit pretty well, tight through the arms as previously mentioned and loose over the collarbone area which caused the dress to stand away from my body. (Check out the far right shot above.) This is the kind of dress that will look great as a skirt (throw on a black sweater over top) and has potential for all seasons. For me, the print is interesting but not especially alluring. The yellow seems out of place.
A visually interesting dress to be sure but one that doesn't quite make me drool. I'd wait for sale.
Style #: 4130339184483; blue motif (049)
★★★★★
I love a good column dress! Maeve takes over the mantle previously held by Bailey 44 with the Edisto Column Dress ($128). This dress is so freakin flattering on that it's not even funny. I grabbed it as an afterthought on my way to the dressing room — OK yes, I thought, one more dress I may as well try on. And then wowza! The thicker bands of stripes sit in just the right place to skim and flatter. The print varies from dress to dress so perhaps I just got lucky.
Made from rayon, spandex and poly, the dress is incredibly stretchy. It's over 37″ long and hit me below the knee. I have to imagine it's going to be a little hard to walk in with no vent and a tight bandage fit. No complaints though! I don't mind the slow walk this dress require. The armholes are pretty big and the lining kept catching my underwear, though these are very minor distractions. One look in the mirror and I knew this dress had to come home with me. I'm in a medium.
No waiting on this impressive frock — it came home with me immediately. For now I will wear a cropped cardigan over it.
Style #: 4130580810065; blue motif (049), coral (085) or black (001)
★★★☆☆
The Galina Dress (now $100) gets a spring re-issue in new colors and a new name, the Caravane Tunic Dress ($128). This dropwaist style is not my favorite when paired with a boxy top portion. To fit over my hips the dress has to be at its most rectangular. I am not rectangular. There are lots of little details on the dress, from a tuxedo henley placket to the dropwaist peplum skirt to the button-wrist sleeves. I found the blue motif version to be much darker in real life than the Anthro product shot indicates. As you can see, it's closer to navy with white in real life than the medium blue the website purports.
Although short, hitting me mid-thigh, this dress is a dress…barely. I have the sleeves rolled up here. I'm in a medium, my usual size, which was loose everywhere except across the all-important hips. You may be able to size down depending on your body shape. Curvy folks like me will likely want their usual size. The dress is light and breezy with fun movement. I saw both this blue motif version I'm wearing and the coral in-store. The coral is quite gorgeous! The floral looks prettier in real life. Still, this blue motif seems most versatile to me.
A shape that's not right on me means this dress went back to the rack.
Style #: 30285894; orange (080)
★★★★★
I was delighted to find an online return of the Pravara Dress ($248) in the Soho Anthropologie. Take this review with a grain of salt however, because the dress was an 8 Petite. I am many things but petite is not one of them! Still, I think I was able to get a good feel of how the dress fits.
Made from polyester with a viscose lining, this dress has a stunning array of beadwork laid out in diamond, medallion and vertical patterns. The back is similarly gorgeous even with an exposed zip. It works here. Add in some scrollwork on the sides and you've got one hip frock! I can't say that orange is a color you'd see much of in my closet. All the better for this dress, which is pretty and luxurious without being over the top. The defined waist is a nice touch but there's very little give. Perfect for an hourglass like me, perhaps trickier on straighter shapes.
The torso of the 8P was short on me and the shoulders a little too tight. That left me confident that my usual size 6 would work well because the torso would be longer and the shoulders cut a little broader. The length is another question altogether. According to Anthropologie the petite I tried on is 33.75 inches long, which sounds about right given that it hit me top o' the thigh. (Sitting down would have been a dangerous proposition.) Anthro says the regular is 36.5 inches long. I find that hard to believe given where the dress hits the online model. She's about 5'10" we think, right? Based on that I'm guessing the regular is 35″, which would hit me two inches above the knee. Better, but still short.
Still, this dress might be worth the risk. All I need is a free shipping promo and this one's coming home to mamma.
Later today — more dress reviews! What do you think of these dresses? What other Anthropologie items would like me to review?