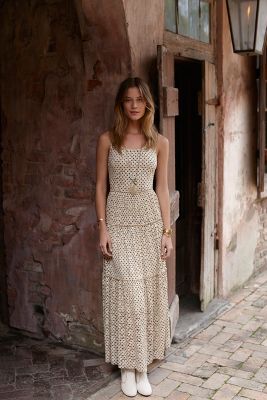 Dress season is in full swing at Anthropologie. It's a little dangerous going to the store right now with so much temptation! As the brand works to find its footing again in design and shape I've come across a lot of dresses that are almost there and a few stunners too. What happened during my latest trip? Come on in and find out.
Style #: 28678654; turquoise (046), black (001), green (030), wine (061)
★★★★☆
The Elsa Peplum Dress ($148) is basically the Katrine Peplum Top ($88, review) in dress form. Is all that lace and such too much when it's a dress instead of a top? Perhaps. There's something undeniably sexy in this dress with all its hinting of skin that's really just a layer of polyester lining below all the chantilly lace. I so wish that underlayer were muslin or cotton instead. Polyester is much less breathable and in this dress it's tough on curves. The dress has a very nipped waist that I love and the skirt is pencil-shaped.
When I tried this dress the only color showing on the website is the turquoise you see on me. Since then the dress has come out in three more colors, including a wine that I'm eagerly hoping to see in stores. (As of this writing it doesn't look like the wine is in any stores in the NYC area.) The dress has no pockets and very little give. I don't mind as it's shaped for my curves! Although snug I could still move fairly freely, with only my long stride limited to about half-length. The peplum creates a high waist while the skirt hits a good 2-3 inches above my knees on my 5'8″ frame. Anthropologie claims the regular is 38″ long but there's no way that's accurate. I'm guessing it's more like 36″ long. This dress is also available in petites.
If you tried on the Katrine Peplum Top you'll want the same size in this dress, keeping in mind that there's hardly any give through the hips, rear and thighs of the skirt portion. I found my usual size medium worked wonders. If you size up in this dress the peplum can end up too large, creating a weird tent effect at the waist. I love the scoop neck on this dress. I wish the sleeves were longer. Another inch or so of material would really help across the shoulders. In the back this dress has a v-neck that doesn't dip too low. The zipper also lives in the back.
This frock seems like a fantastic special occasion option. Although I'm quite taken with it I'm not sure that I'd get enough use out of it to justify the full price. My special occasion dress collection is already pretty sizable. So I'll see how it sells for now before making my decision. Wishlisted to hopefully wait for sale.
Style #: 28805810; white (010)
★★★★☆
I don't know how you lovely Southerners do it. A couple of weeks ago NYC was embroiled in an epic heatwave, the kind where you instantly melt as soon as you step out of the air conditioning. While 100+ degree temperatures were a fact of life in Colorado summers the air is so dry out there that it was almost pleasant. Meanwhile 90 degrees in Manhattan is smelly, sweaty and soaking with humidity. Some days I would look in my closet and wonder what on Earth I could wear that would keep me as cool as possible while covering only what needed to be covered.
Enter the Tiered Eyelet Chemise ($88). This dress breaks nearly every rule I'm going for with my closet right now. It's not knee length. (Try more like mid-thigh.) It's got a sheer top portion. It has very little shape to it. And it wrinkles! So of course, I bought it immediately. Why? Because when it's 99 degrees and humid like hell in Manhattan, this dress is perfection. I put it on and immediately felt the ahhhhhs of relief. Brunch has suddenly become a weekend routine for me and this would make a fantastic brunch dress, perfect for hiding a post-pancake or french toast belly.
Like most items from Lili's Closet this chemise runs large. I was captured in a cloud in the medium so I sized down to a small. The small is still pretty ridiculous from the side, but that's when I remind myself that this is a chemise and not a true dress. It's meant to be slept in or worn around the apartment. I'm just cheating fate in wearing it outside. I found very little length difference between a small and a medium. The small hits about 4 inches above my knees in the front and a couple of inches above in the slightly longer back. This chemise is double-layered partway inside. It's not sheer but darker colors, like say a blue bra, will certainly show underneath. A nude bra is how I wear this out. I belt the waist with my grey Snakebite Belt. I also put a long slipdress underneath — you'll see it in this weekend's Reader Outfits.
So yes this chemise is short. And yes it wrinkles so easily when you sit down. A shot from the steamer gets those wrinkles right out. But on the hottest days when all I want to wear is as little as possible, this dress is perfect as far as I'm concerned. One community member noted that this frock is a downplayed version of the Graced Swing Dress ($188, review) which is a very astute observation to me. If $200 is a little much to spend than this sub-$100 option might be just what you're looking for.
Style #: 27767110; black motif (009)
★★★☆☆
When I saw the Ginevra Lacework Dress ($378) on Anthropologie's website I gave up on it. The model shot makes this dress look so short! I'm a couple of inches shorter than that 5'10" model but still I feared this dress would be a no-go on me. What a pleasant surprise in real life! The dress spills to just above the knee. Much more appropriate than first thought.
Anthropologie has a vast array of lace over poly dresses right now. From Yoana Baraschi's embroidered medallion lace dresses to the chantilly lace of the Elsa Peplum by Maeve at the top of this set to this lace style that I like to call cathedral because it reminds me of the beautiful stained windows in Europe's gothic-era churches, each style has its own look and feel. I guess the one choice I take issue with is the white layer underneath the black lace. I know the 90s are fashion's latest hot retread but good god, blech. I thought it couldn't get worse than the 80s retreads but I was wrong. The white isn't so much unpleasant as it is forceful. There's no subtlety to this dress. I feel like all I need is black lipstick, an anorak and Doc Martens and all of a sudden it would be 1993 all over again. And I hardly remember that year! This is so not my style aesthetic. Then again, you could put a tailored blazer over this, or perhaps a light cardigan so only the skirt part shows and all of a sudden this becomes a pretty little work option. Who knew? If you want to see an even wilder version, the dress comes in a pink and black combination on Nanette Lepore's website.
In terms of fit, Nanette Lepore always does an exquisite job. My usual size 6 hugged me in all the right ways. The spaghetti straps are just a little thicker than normal which will conceal a bra strap better. The back is a little low though so beware the unintentional band reveal. The waist has a small band that defines curves beautifully. The skirt has a scallop hem and as previously mentioned it ends just above the knee. This dress has a back zip and a hook-and-eye above that. This dress did not itch but I am very itch-tolerant.
I'm left scratching my head over the colors chosen but the craftsmanship is there. If this dress speaks to you then it is well worth the price. For those unfamiliar Ms. Lepore is one of the leading designer advocates to keep Made in NYC clothing design & production alive. The Garment District here is slowly dying and along with the CFDA and designers like Diane von Fursternberg, Ms. Lepore works hard to support local production whenever possible. It's something I'm willing to pay a premium for. If you are too, this dress is a lovely option. For me, back to the rack.
Style #: 27652213; blue motif (049)
★★★☆☆
The Anakena Maxi Dress ($148) is the kind of dress I'd normally cruise right past. On a recent visit to Rockefeller Center a SA I'm friendly with suggested I try this maxi. So I gave it a shot. And it's lovely! I don't know how I feel about the very horizontally stacked pattern but I love the shape and fit.
In the back this dress has crisscross straps that are very cute and there is a long waist tie. It's a little thick to be called a sash. In fact, all of this dress's material is thicker than expected. It's made from viscose and rayon which is very soft but hard to wash. Anthropologie suggests dry cleaning this dress…that adds up. The main dealbreaker for me, and the reason why I can't give this dress 4 stars even though I'd like to, is that it's short for a maxi. I purchased the Empire Day Dress ($98, review) to wear in Hawaii and was so annoyed by how short it is on me that I'm pondering whether to sell it or keep it. I know that the petites in the community have complained about the length of maxis as well — how they are too long for them! — but for me, there is really nothing worse than a maxi dress that shows your ankles. It just looks odd. You can always take away material at the tailor but you can't add. This 5'8″ chick is upset.
Otherwise, the fit on this dress is small but lovely. There was only an 8 available in-store to try on and that fit perfectly. I can't imagine that my usual size 6 would have zipped comfortably. The dress has a corset-style bodice that is tailored inwards at the waist. It's not tight but it fits closely. There is a side zip and the skirt falls more or less straight from the hips. The overall shape is pleasant.
Were this dress longer it would be wishlisted. Instead, back to the rack it went.
Style #: 28453991; neutral motif (015)
★★★★☆
Here's the good news about the Marigny Maxi Dress ($158): it's flattering on nearly every body shape. I was in Chelsea Market and no joke, three of us were trying on this dress at the same time. Although we were strangers we decided to reveal the results to each other. There was one lithe lady shaped like a model who was a couple of inches taller than me. There was a more petite gal of 5'5″ or so who was curvier than me. And there was good ol' hourglass me, landing somewhere in the middle of the two. While the petite gal lamented that the dress was long on her we all agreed that though we represented three very different body shapes this dress flattered each of us equally! I'm just the only one blogging about it among the three.
This maxi feels a little rustic. There's a pattern upon a pattern going on here, with some parts of the ivory fabric looking more opaque thanks to a floral medallion pattern. And then on top of that are the black polka dots. The top portion is basically a tank top with a scoopneck and below that are tiers of skirt. This dress is very, very slimming. Your opinion of this dress will come down to how you feel about tiered skirts. I don't mind them but I do think they can look like a bordello lampshade when styled wrong.
Fitwise I felt better in a small than my usual size medium. I guess my bust to shoulder height is shorter than Anthropologie's fit models because in the medium the shoulder straps were sitting away from my body — they were too long. So the small worked much better. I tend to size down in most Meadow Rue items. It's also much longer than the last dress I tried. I was in 3″ wedge heels and the dress still nearly grazed the floor. Perfect for us talls!
This dress isn't exactly my style but I think it's beautiful. If you're looking for a flattering maxi give this one a shot! For now, wishlisted.
Style #: 27490218; light grey (006), black (001) or red (060)
★★★★☆
Online exclusive my butt! Although not every color was available in my local Anthropologies I saw the Etoile Maxi Dress ($148) in nearly every NYC store I hit recently. That basketweave waist was going to be an issue for me I knew but the dress is so soft to the touch that I could not resist trying it on. Bordeaux is very hit and miss for me. When the brand hits it's a bulls-eye. Well worth the try!
This maxi is rayon and spandex with a Grecian style neckline with plenty of gathering and ruching. The basketweave panel at the waistline does a few things. It emphasizes tiny waists. Yay! It allows for post-meal expansion. More yay! It can also emphasize larger busts. Yay? I get very self-conscious about anything that makes my D cup look bigger than it already is. This dress was both celebrating and showing off my bust, but in a way that had my shoulders subconsciously crouching inward. It's just a little much.
In terms of fit, I would recommend sizing down in this dress. I felt like the medium was very loose in the top, causing it to want to fly open around the bust. In a small I thought the dress hugged my hip area more but was overall a better fit. When I tried this dress on I was wearing the ivory T-Strap Heels ($70, so comfy!, aka BC Cool as a Cucumber shoes) which have a small kitten heel. The dress was about 3 inches off the floor so I think with flats it would be a fine length for me. Petites may find this dress scrapes the floor in regular length but luckily there's a petite version just for you lucky ducks!
I think this dress could be lovely for fall dates in the light grey version I tried on but I'm not sure I'd wear it much beyond that. Perhaps with a slouchy sweater over it for work. Wishlisted to further ponder the options!
Want more dress reviews? You can surf through all of my reviews sets here. I've tried on about 50 dresses in the last month and there are more Anthropologie dress reviews to come! What do you think of the dresses in this reviews set?