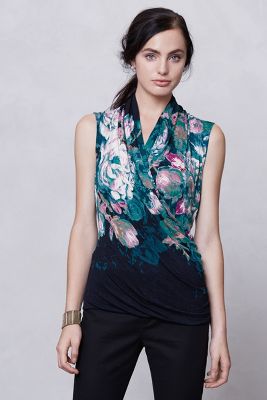 A little classic Anthropologie is making its way back. In this reviews set, some cute tops and sweaters!
Style #: 26971416; blue motif (049)
★★★★☆
Note: If you're wondering my sizing measurements/height/etc, they're detailed on this page.
With a print that looks something like an abstract weather pattern, the Asterposy Wrap Top ($58) is a beautiful faux wrap sleeveless piece that reminds me of Anthropologie days of yore. Well, except for the rayon material that recalls Anthro days of god I miss cotton jersey. This top is very thin and handwashable. There's nothing holding the faux wrap front together so a breeze could expose you to the world. (I suggest a cami underneath to prevent that.)
The wrap portion of this top was pretty loose in my usual size medium but snug around the hips so I recommend sticking with your true size. A top like this creates no waist definition so I often end up feeling wide. This top is alright in that respect. I'd pair it with a pencil skirt to create a more attractive shape, or maybe a circle skirt for a youthful, playful vibe. (I'm in love with this J.Crew skirt from their new spring arrivals, more on this to come.) The length on the Asterposy is good, hitting at my high hip. It feels very comfortable on and is not sheer.
A promising top that I hope means good things to come. Wishlisted!
Style #: 27032606; mint (102) or black motif (009)
★★★☆☆
Oh peplums. With your waist-defining and little skirts and cute properties. I always think you'll look wonderful on me and yet you hardly ever do. The Textured Peplum Tee ($68) is adorable, truly. I'm in love with this mint and blue version that I tried on. It has tons of texture — little teardrops in offsetting patterns on the front and sides. Stripes placed horizontally on the front and vertically under the arms and on the back. A modified v-neck in its own teardrop shape. The rayon/poly/spandex material is very stretchy. I'm sure this top will loosen up over the course of the day.
I seem to fall between sizes in Postmark's tops. The medium was a good fit but it doesn't quite look right — especially over the chest. I feel like a pretty linebacker in the top. I was hoping a large would have better proportions, but it was too loose in the sides and through the bust. It's a connundrum. Another common issue that plagues this top is the waist is too high. That leaves the peplum sitting above the spot it's meant to rest in and contributing to the askew proportions. I wish Anthropologie would consider tall versions of their tops.
As it is, this top isn't workable on me. So incredibly cute but a pass nonetheless.
Style #: 26772079; green motif (038) and 5 other colors
★★★★☆
Not content to rest on the success of the Duo Colorblocked Top ($48, review), Bordeaux keeps churning out super soft tops like the Lexa Striped Boatneck ($58). This latest version has a solid base color upon which hoizontal stripes are placed. Some are thin stripes like this green motif version, some are thicker like the mint version. I was drawn to this particular color because the green really pops off the grey. (I know the stripes look yellow, it's more chartreuse in real life.) Why this top costs $10 more than its predecessor I don't know.
One change on this top is that the main body of the top attaches at the bustline in almost circular fashion, so that the top falls in a slightly trapeze fashion. The back of the top is a few inches longer than the front. On me, this seemed to create pleats in the front, mainly because the shirt wants to fall straight down from the bust. So larger-busted ladies like me may find the circular shape troublesome. Were the bottom hem heavier, perhaps with a band or something this problem would have been alleviated.
I found a medium to fit comfortably and it's worth mentioning again that this top is so soft! The rayon is thin and I'm sure lighter colors of this top will be sheer. The sleeves run over the wrist to about mid-hand. I love the simple scoopneck which drops down to the perfect spot.
Comfy, colorful, maybe I'd be better off in another color. Wishlisted!
Style #: 26464149; cream (012) or coral (085)
★★★★☆
I own a brown 'leather' jacket from Zara and I've been on the lookout for the right creamy open-knit sweater to wear underneath. I think I may have found it in the Lace Hem Pullover ($118). My one complaint? I wish this sweater were longer — it's just a drop too short on my 5'8″ body. This sweater is thick, textured cotton in a beautiful box stitch with scallop lace at the bottom hem. A banded scoopneck and long sleeves make this a fantastic spring sweater.
Awesomely, the stitching does taper in a bit at the waist to help with fit. But the design still makes you look a little wide — even the model seems a bit wide in the third product shot. (Sorry model.) Since I plan to layer this it's not a big deal to me but an inch more material would have gone a long way towards fixing the issue. I found a medium to fit snugly and comfortably. The threads are knit together nicely, and I have no fear of this sweater falling apart. It seems very nicely made.
This is another piece that reminds me of Anthro of yore and I love it! Pretty, and wishlisted!
Style #: 26092346; grey (004) or black (001)
★★★☆☆
I first stumbled across the Transfigured Folds Cowlneck ($68) online and was so excited to hunt it down after seeing the product shots. The mixed reviews made me somewhat wary and after trying it myself I'm meh on this top. It looks great in photos but it feels very strange on.
Let me explain. This all-cotton top feels like a sweatshirt worn inside-out. You know that rougher cotton on the underside of a sweatshirt? That's how this entire top feels, inside and out. Strange streaks in a diagonal placement look sort of like this top was pulled out of the dryer too late. The cowlneck is fussy and yes is can be placed in many positions but it wants to be off the shoulders. Weirdest part? The bottom hem, which is uneven in thickness.
A medium fit well. I love the sleeves on this top, and if the long streaks had just been there I think this top would be cool. Alas, I felt static-y and schlubby in this top. Very, very cool idea. Not sold on the execution. Back to the rack.
The skirt here is the Sailaway Circle Skirt ($148) which will get the full review treatment next week. You can size down in it easily. Below are a couple more preview shots of next week's reviews to whet your appetite. Let me know what you think of the items reviewed in this post in the comments, and leave your requests for upcoming sets!
Bunnies!! In night vision!! This is Maeve's adorable Franziska Shirtdress ($98), which fits true to size.
Review next week.
Hopefully this Ellen Van Dusen dress will be online before the review runs next week.
It fits TTS, the zipper issues that plagued the winter version are fixed and it's cotton!